Thomas and the Taylors: Part 2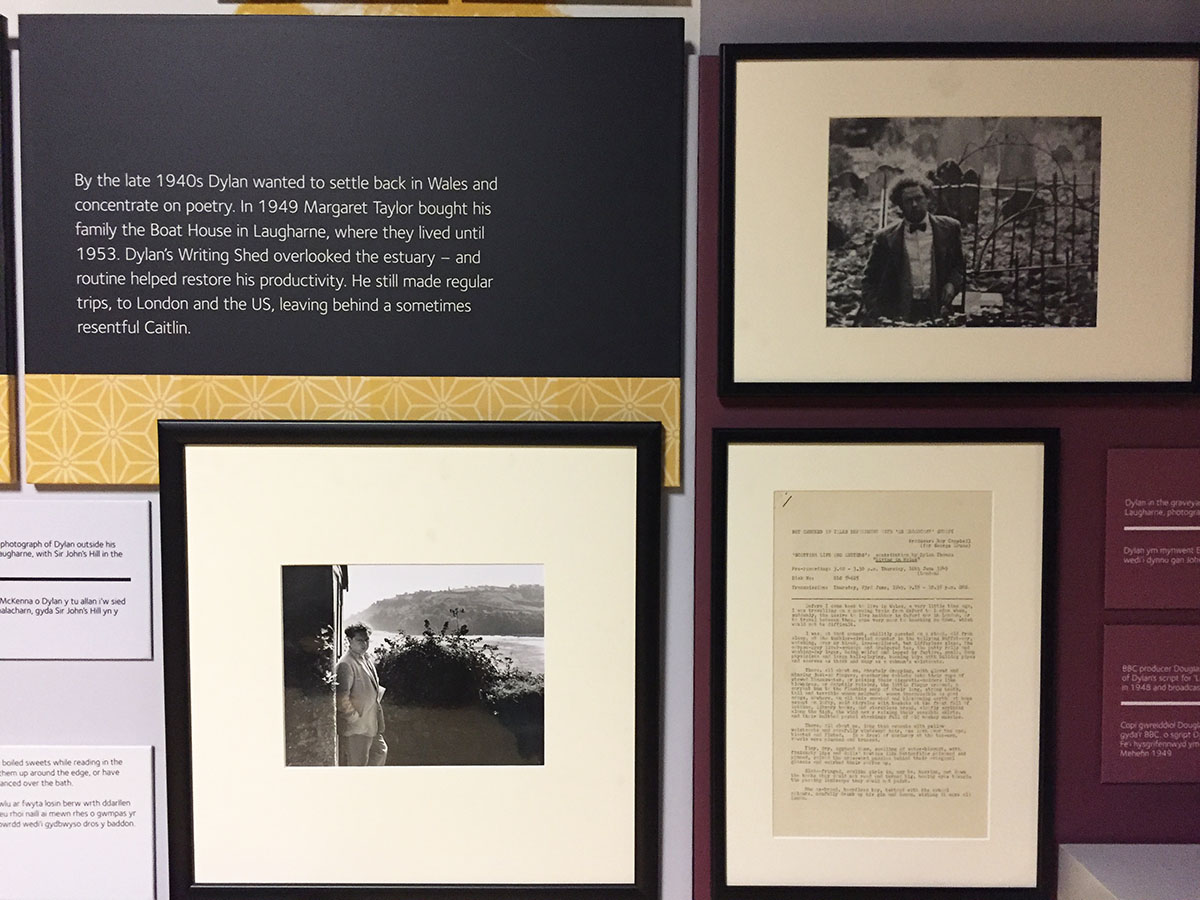 In 1949, Margaret Taylor bought the lease to the Boathouse in Laugharne, to provide a settled home for Dylan and his family. In this blog, Linda explores the background to this generous gift.
By the time Dylan Thomas and the Taylors' paths crossed again, over ten years had elapsed. Their mutual friend, poet Stephen Spender, arranged for the Thomases to spend Christmas 1945 at Holywell Ford, A.J.P. and Margaret's family home in the grounds of Magdalen College, Oxford, where the professor was now teaching.
Then the following autumn, A.J.P. recalls Dylan and wife Caitlin 'turned up without warning'. They had nowhere to live, so Margaret offered them the riverside summerhouse in the garden. A.J.P. was furious; he disliked Dylan, who arrived when the Taylors' marriage was already under significant strain. In his autobiography, 'A Personal History', he reveals that Margaret was 'passionately, unrestrainedly in love' with one of his students, Robert Kee, who complained about her unwanted attentions, leaving him 'humiliated and resentful', his 'last spark of affection' for his wife 'extinguished'.
At first A.J.P. thought that Dylan would provide a distraction from her obsession with Kee, and indeed Margaret became increasingly involved in orchestrating the Thomases' domestic lives, providing meals and a bed for their daughter, Aeronwy, as well as paying for son Llewelyn's boarding school fees. As Dylan's new patron, she then turned her attention to promoting his literary career, organising artistic and literary parties where he could meet Oxford intellectuals. In return, Dylan wrote detailed and constructive criticism of Margaret's own (unexceptional) poetry and the Thomases provided the congenial company the gregarious Margaret lacked. The trio regularly went out drinking together.
A.J.P. increasingly felt excluded from this 'clique', so was relieved when Dylan took his family for a scholarship-funded stay in Italy. Dylan (feeling homesick) wrote thanking his patron for sending English newspapers and periodicals, plus 'too many thousand things to count', since they had arrived at Holywell Ford 'in a sick muddle'. He also asked her to find them a proper home of their own.
Margaret thrived on this dependency; she was on a mission to cater for the needs of a genius, and quickly found the Manor House in South Leigh, near Oxford (in reality a modest cottage). It was actually her husband who paid for it: in his autobiography he admits doing 'a very foolish thing'; despite considering the poet a sponger and a fraud, he paid for the property using money from a personal inheritance – on condition Margaret stopped funding Dylan.
She soon broke her promise, quickly becoming a go-to for Dylan, who was fully aware that his well-heeled new patron would gladly use her private income to grant his wishes. (When he required a private space to write, she provided a gypsy caravan.) He also knew she was seriously infatuated, nurturing romantic dreams of becoming his lover. Margaret was sufficiently deluded (much to Dylan's amusement) to draw up detailed plans to elope with him from Paddington Station. Fortunately, Caitlin never considered her a serious romantic threat to their marriage.
For the Thomases, there was an unrelenting price to pay for this devotion; Margaret – although well-meaning – was interfering, constantly arriving unannounced to invade their personal space. Caitlin thought 'she was a mad organiser, and right away she wanted to rearrange our lives….'; adding 'she managed to irritate the life out of us'. Dylan put up with it; his patron craved his undivided, gracious, attention and this was the key to stretching 'Maudlin Magdalen Maggie['s]' lengthy purse strings, especially where his writing environment, productivity and income were concerned.
In 1949, Margaret bought the £3,000 lease to secure the Boat House at Laugharne for Dylan, after he expressed a wish to move back to Wales. She even followed them to Wales, purchasing her own home at The Grist, Laugharne, from where she could monitor him. At this point A.J.P. wrote telling the poet that he was destroying his marriage, but received no reply. Instead Dylan expressly acknowledged his patron's enduring kindness: 'All I write in this water and tree room on the cliff, every word will be a thanks to you.' But he was soon again in dire financial difficulty, allowing Margaret to settle all his bills.
However, in private he was often disparaging about 'mad Mags' (particularly to Caitlin, which may have been to reassure her that Margaret was not a threat to their marriage) and very ungrateful. He regarded her as an irritating, easily manipulated, and harmless 'cash-cow' until in 1950 she seriously threatened his marriage when she informed a furious Caitlin of his affair with Pearl Kazin, a journalist he met on his first north American tour. Dylan's biographer, Andrew Lycett, believes 'it was a personal, emotional reaction'. Margaret feared her own controlling influence in Dylan's life might end, especially if he left his family for Pearl.
For a brief time the Thomases moved to London when Dylan decided his productivity would improve in London. Margaret bought a flat in Camden Town, close to a property she'd persuaded her unwitting husband to lease, and brought his gypsy caravan up from South Leigh. Her involvement continued for the rest of his life; ironically, she was among a party who toasted his departure on his final, ill-fated American tour.
Paul Ferris summarises well the narrative between the two: 'unquestionably Mrs Taylor was deeply entangled, let her marriage disintegrate on his behalf, and mourned him when he died'.
Many visitors to our 'Love the Words' Dylan Thomas Exhibition also continue west to tour the Boat House, which itself stands testament to the final chapters of the Thomas/Taylor story.
Linda Evans, Dylan Thomas Centre  
This post is also available in: Welsh