Dylan's Work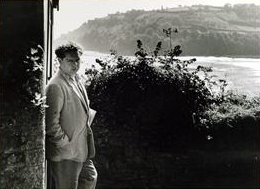 Dylan wrote prolifically from a very young age, with his first poem being published in his school magazine.
His work took many forms, including scripts for radio broadcasts, radio plays, short stories, films and an unfinished novel, although he is best known for poetry.
Dylan's most popular poems include 'Do not go gentle into that good night' and 'And Death Shall have No Dominion'. He also included poetry in his famous play for voices, 'Under Milk Wood'.
"Though they sink through the sea they shall rise again;
Though lovers be lost love shall not
And death shall have no dominion"
And death shall have no dominion
18 Poems (1934)
Dylan's first collection of poems was published in December 1934, a month after his twentieth birthday.
More about 18 Poems (1934)
A Child's Christmas in Wales
Dylan's much-loved tale of Christmas is available in a book on its own in several different editions and sizes. A Welsh version is also available.
More about A Child's Christmas in Wales
Collected Letters
Dylan Thomas – the Collected Letters edited by Paul Ferris (London: Dent, 2000)
More about Collected Letters
Collected Poems 1934 – 1953
Dylan Thomas – Collected Poems. Edited by Walford Davies and Ralph Maud (London: Phoenix, 2003.)
More about Collected Poems 1934 – 1953
Deaths and Entrances (1946)
Probably Dylan's best known collection, Deaths and Entrances contains many poems that have subsequently been anthologised.
More about Deaths and Entrances (1946)
Dylan Thomas – Collected Stories
Dylan Thomas – Collected Stories, edited by Walford Davies, introduced by Leslie Norris (London: Phoenix, 2000)
More about Dylan Thomas – Collected Stories
Dylan Thomas – The Broadcasts
Dylan Thomas – The Broadcasts, edited and introduced by Ralph Maud (London: Dent, 1991)
More about Dylan Thomas – The Broadcasts
Dylan Thomas – The Filmscripts
Dylan Thomas – The Filmscripts, edited by John Ackerman (London: Dent, 1995)
More about Dylan Thomas – The Filmscripts
The Map of Love (1939)
The Map of Love, a collection of poetry and prose, was published on 24 August 1939, but the book's reception was completely overshadowed by the build up to war.
More about The Map of Love (1939)
The Notebook Poems
Dylan Thomas: The Notebook Poems 1930 – 34, edited by Ralph Maud (London: Everyman, 1999)
More about The Notebook Poems
Twenty-Five Poems (1936)
Published two years after his first collection, Dylan again mined his notebooks for Twenty-Five Poems.
More about Twenty-Five Poems (1936)
Under Milk Wood
Dylan's famous 'play for voices' was first published in book form in 1954, and has never been out of print.
More about Under Milk Wood
This post is also available in: Welsh