Elaine Griffiths: Wales' Youngest World War 2 Air Raid Warden – Part 1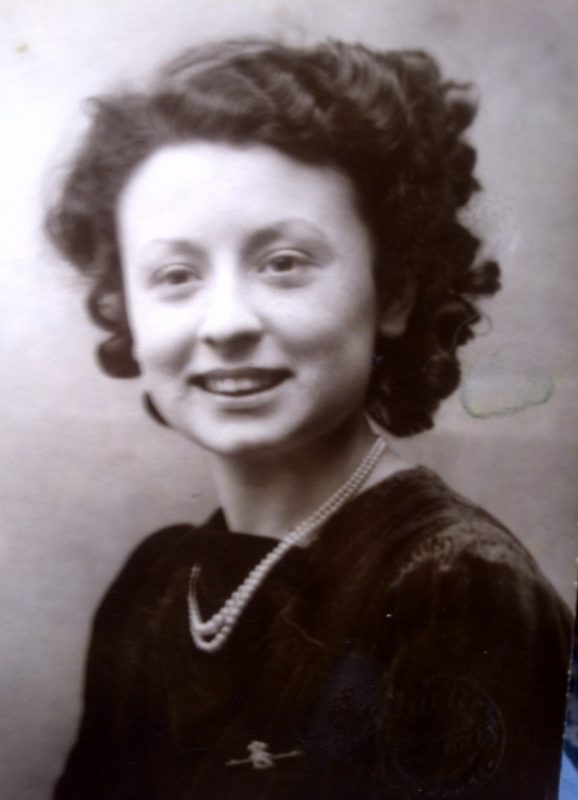 Linda looks at the incredible wartime experiences of Elaine Griffiths, Swansea resident and contemporary of Dylan Thomas.
At the time of writing, educational establishments in Swansea are closed to most pupils in an attempt to minimise transmission rates during the second wave of the coronavirus pandemic. Ironically, almost eighty years ago, on 22 February 1941, an announcement on the radio informed listeners that Swansea schools were temporarily closed.
Swansea Grammar School, where Dylan Thomas had been a pupil and his father an English master, was very badly bomb damaged. In the March 1942 edition of the school magazine it was reported pupils subsequently had nearly a fortnight's holiday, with pupils attending half days for five further months while vital repairs continued.
School buildings made up just a small percentage of devastated buildings, and the nights of Wednesday 19th, Thursday 20th and Friday 21st February 1941 became known as the Swansea Three Nights Blitz. The duration of these catastrophic aerial raids by German bombers (the Luftwaffe) totalled 13 hours and 48 minutes and saw the town centre reduced to huge heaps of rubble and twisted metal. Hundreds of people were killed or injured.
No-one was more aware of the devastation meted out to the town and its communities than Elaine 'Nin' Griffiths (Kidwell after marriage), a 17-year-old librarian at the Royal Institute of South Wales (now known as Swansea Museum), who was an enthusiastic Girl Guide, and the youngest female air raid warden in Wales.
Elaine and her family lived along Quay Parade, and her father, Edward, (Ted), a veteran of World War 1, ran a newsagent's business within the shadow of an overhead railway line that crossed the bottom of Wind Street. Ted was already a deputy head air raid warden when the newly-qualified Elaine donned her tin hat and arm band and joined him as the only female at post 2E in Pier Street (today accessed via the narrow junction adjacent to Morgan's Hotel on Adelaide Street).
Back in December 1937, concerned any future war would involve heavy aerial bombing, and 19 months before Churchill declared war on Germany, the British government passed the Air Raid Precautions (or 'ARP') Act, requiring local authorities to ready themselves in case of air attack. One of the most visible forms of 'ARP' was the air raid warden, and they became the first link in a long chain of ARP bodies that would include firefighters, rescue and first aid parties, ambulance crews, medics and emergency food providers.
An official from the Guildhall had visited Elaine's Guides group, hoping to recruit more girls willing to serve as air raid wardens. The only one to accept the challenge, she trained enthusiastically at the Civil Defence divisional headquarters at Sketty Hall, and her Girl Guide's qualification in first aid stood her in particularly good stead, as did the Guides' credo of always thinking of others and the importance of serving the community, principles which she wholeheartedly believed in.
Elaine's post was within a major industrial and commercial area, supported by an important principal port with five docks. Situated at the mouth of the river Tawe, the port was crucial to the war effort. If the Luftwaffe aimed to destroy the five docks, they mostly missed their targets, instead flattening what had been an affluent and vibrant town centre, which boasted no less than ten department stores.
Although Elaine was only 4ft 11cm (1.5 meters) tall, and very slim, what she lacked in stature she more than made up for in strength of character. Among her many duties, she was required to introduce herself to the local people, ensuring they knew where their nearest air-raid shelter was located. (Her post was in a densely-populated area, so few people had room for a personal Anderson bomb shelter in the garden.) At night she patrolled the streets, making sure the blackout regulations were adhered to, as no artificial lights could be visible to the German bombers.
Although dispensing friendly morale-boosting reassurance was an easy task, some aspects of her role proved quite onerous. Gas attacks were considered a real threat, and one particularly difficult duty was showing a mother how to fit her baby into a gas-proof black rubber bag. She was also given the task of telling people their homes were destroyed or relatives killed; the other wardens at her post said bad news was 'better coming from a girl'. Understandably, Elaine hated this responsibility.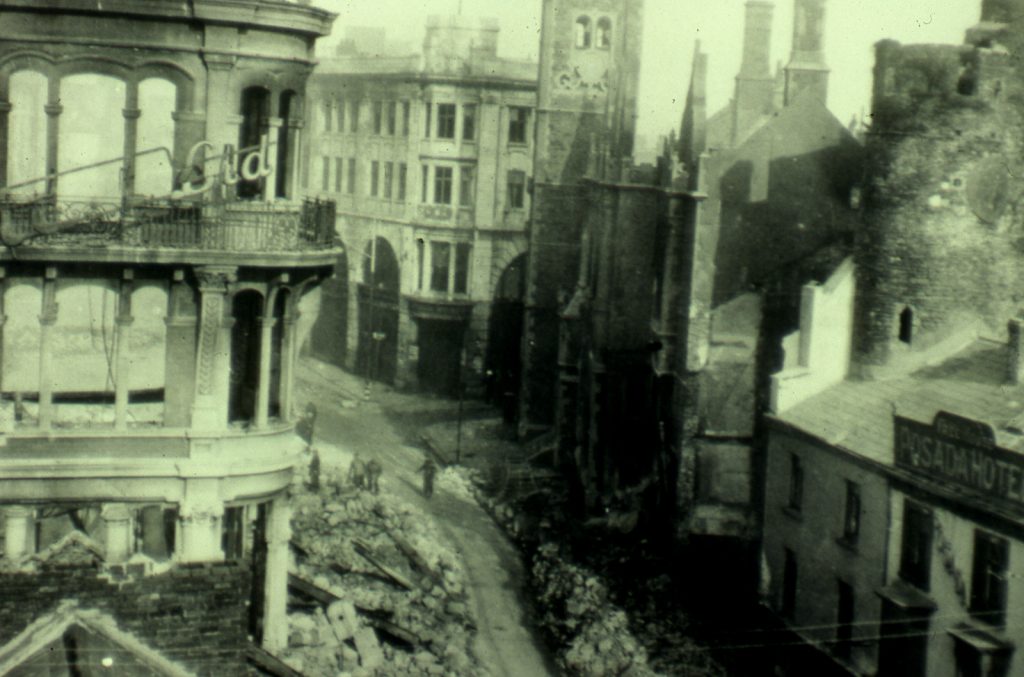 On the first night of the Blitz, Wednesday 19 February, the Luftwaffe dropped thousands of incendiary bombs, (which Elaine described as coming down 'like rain'), and some heavy bombs, which came in salvos of six. Her father instructed his young daughter to throw herself against a wall if she could not get to safety.
On the second night, assembling early at their Pier Street post, the small team of seven wardens faced a long night of heavy bombing. Counting the massive explosions, they were aware that two of a salvo of six had not exploded. One had landed at the bottom of Wind Street and split in two, but one was unaccounted for.
After a truly terrible night, during which she swept incendiary bombs from the roof of Lloyds bank and helped to apply a tourniquet to a badly injured man, Elaine, as was her wont after a bombing raid, made a check on her 'beloved museum', which stood proud, and apparently unscathed. However, on taking a closer look at the imposing, classically-inspired facade, she realised that the tall front doors, dwarfed by columns, had been blown inwards and Lizzie the stuffed elephant who stood sentinel facing the doors near the entrance was at the mercy of the elements.
Look out for Part 2 to find out what happened next.
Linda Evans, Dylan Thomas Centre
Sources:
'Among some Swansea schoolboys: Dynefor secondary grammar school for boys 1939 – 1945' by Tudor Price
Rebuilding Swansea 1941-1961 by Dinah Evans, A West Glamorgan Archive Service publication
'Swansea at War' Evening Post Pictorial edition
This post is also available in: Welsh