Elaine Griffiths: Wales' Youngest World War 2 Air Raid Warden Part 2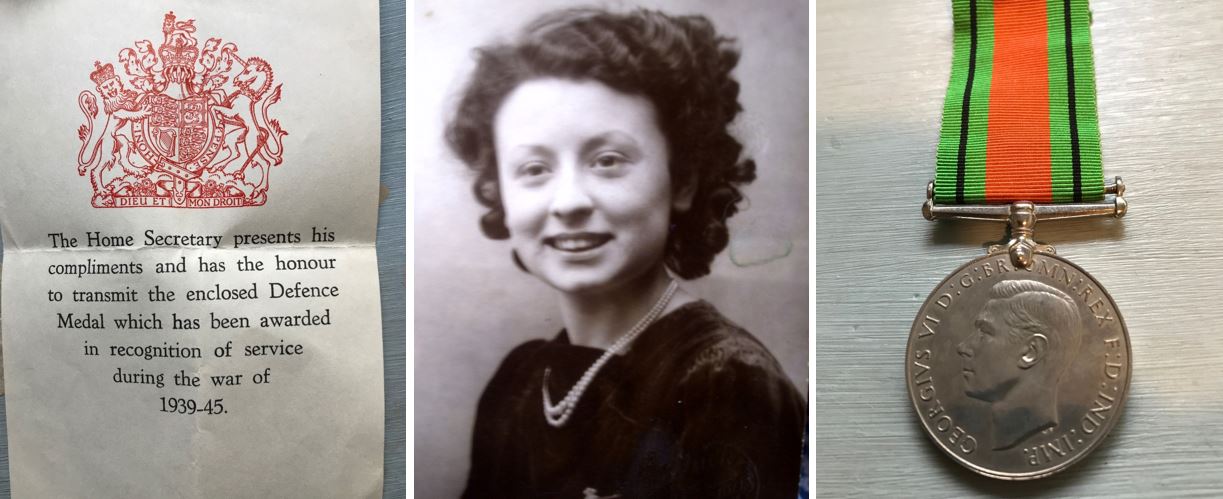 Our last blog left Elaine at the doors of the Royal Institute of South Wales. Here's what happened next.
Elaine, with a meagre spot of torchlight to assist her, was able to grope her way to her desk in the upper lending library and empty the petty cash into her helmet for safe-keeping, before going downstairs to the lower reading library. In her own words, she describes her experience:
'I only was allowed to have a very small torch which showed me a way to walk, about two foot, in front of me. I could not flash the torch about, because of the glass panels in the roof of the bottom library. There was a huge long, wide table running the whole length of this bottom library. There was no glass on the narrow piece of floor that I could see by the side of my feet, but, walking and stumbling around the huge table, which was used as a reading table, by members of the Royal Institute, I [then] quickly went around the rest of the museum, on the ground floor…. '
There was no obvious damage, apart from a small amount of glass. Satisfied there were no intruders, she secured the front doors (thus safeguarding Lizzie) and went home. She was woken by a hammering at the front door. A member of the bomb squad had come to warn her to stay away from work, as the whereabouts of the sixth (unexploded) bomb had been solved: it had plunged through the glass roof of the reading library and was embedded in the floor about a foot away from the table, with its metal fins sticking up in the air.
The intrepid young warden had not noticed anything amiss while navigating round the enormous reading table, because all the fragments of glass had fallen onto it. Reflecting on her (and the museum's) lucky escape, Elaine recalled: 'I had walked inches from it and because my weight was just under seven stone, I had not disturbed it in any way.' The bomb was later diffused and taken to the small garden at the rear of the building to be destroyed.
The third and last night of intense bombing was 'another terrible evening and night' when Swansea's flagship department store, Ben Evans, was lost and the whole town seemed on fire. Despite drinking weak tea in an attempt 'to ward off the aching tiredness' that threatened to overwhelm her, she and the other wardens knew they had to do their 'very best as so many people depended on us'.
That night 17-year-old Elaine drew on all her warden's training, powers of persuasion and sheer determination to move a group of fearful elderly people from a Wind Street shelter that was in peril of becoming engulfed in a developing firestorm, caused by the cocktail of explosives raining down, She led them through a scene of confusion and chaos, cajoling and even pushing them across the Tawe bridge to safety in St Thomas on the town's east side. 'I could see that we were all going to die there if they didn't get across that bridge,' Elaine recalled.
Turning back to look at the inferno that had so recently been a town, the river reflecting the massive flames, she saw the tall tower of St. Mary's Church (where generations of her family had been christened), with flames shooting out of the top. Amidst crushing tiredness and grief, Elaine heard the bells clanging as they crashed down. She said 'I knew that I would never, ever, forget the scene as long as I lived.'
While she was risking her life on air raid patrol, Dylan Thomas and his wife, Caitlin, were staying with his parents in their modest bungalow in rural Bishopston, a few miles outside Swansea, following his father D.J.'s retirement from the Grammar School due to ill health and their move from Dylan's suburban childhood home in Cwmdonkin Drive. This was
prior to Dylan's own 'war work' beginning in earnest, with the writing of morale boosting documentaries for the Ministry of Information, and the air raid warden duties he undertook in London. Although the 'Collected Letters of Dylan Thomas' make no mention at the time of the drama unfolding in the town, Dylan's radio play, 'Return Journey', broadcast in June 1947, recalls that terrible time and emphasises both the tangible and emotional voids created by the 'blitzed flat graves' of the 'remembered invisible shops'.
Interestingly, both Dylan and Elaine saw beauty amongst the aftermath of those dark days. Snow had turned the dirty grey streets into a 'little Lapland' as Dylan negotiated the town searching for his younger self, and down on the 'frozen foreshore' he describes the sea as having taken on a crystalline quality.
Elaine, too, provides us with examples of arresting wartime imagery: on one occasion she was standing in Wind Street when searchlights illuminated an enemy aircraft 'and it seemed to me to be like a silver brooch hanging in the sky!'; furthermore, 'When land mines on parachutes detonated every bit of glass blew out as well. There was glass everywhere, and the pavements and roads shone with all the reflections of every piece. It looked like frost and it was quite beautiful.'
Lamenting the loss of the town's elegant Victorian and early Edwardian buildings, 'of charm and beauty', and in a poignant echo of Dylan's description of Swansea as an 'ugly, lovely town' in 'Reminiscences of Childhood', Elaine thought it ironic that Weavers flour mill (a large, concrete 'awful looking building' which dominated Quay Parade, eventually demolished and replaced with Sainsbury's supermarket), remained intact. However, she was grateful that two imposing and elegant buildings very close by came through the war safely: firstly The Royal Institute (her 'beloved museum') and secondly the former town Guildhall (until 1934) behind Quay Parade on Somerset Place, which was renamed the Dylan Thomas Centre in the 1990s and now located in the regenerated city's Maritime Quarter.
The personnel of the Civil Defence Organisation and the people of Swansea were promptly praised for standing up to the ordeal of three nights of enemy bombardment with such unwavering courage and determination. Morale remained high, despite the intense suffering, loss and privation of so many in the community.
Having researched Elaine's story, it is humbling to learn of the selfless pluck of such a spirited 17-year-old girl. who served her community and experienced so much at such a tender age. With both her husband and elder daughter air raid wardens, the emotional toll on Elaine's mother is clear: in a letter to her sister in America she confesses: 'Ted and Elaine are on duty with the Civil Defence every night now, and no-one gets a lot of sleep. When the nights are over, I'm so very grateful and relieved when I see the two of them safe. They seem to spend most of the air-raids out of doors and I have to sit in the air-raid shelters, hoping and praying that they will be safe.'
Elaine became the proud possessor of two awards for her wartime contributions, principally the Defence Medal awarded for her role as air raid warden, which was given to all Civil Defence personnel. She also received the Women's Land Army and Timber Corps badge in 2009 for her later work with the Land Army on a Pembrokeshire farm.
Elaine often emphasised the bravery and fortitude of the wonderful Swansea people. It became known as the Blitz spirit, and was seen among the populace of other British towns and cities that suffered the same fate. Sadly, Elaine passed away in 2020, but as we remember the Three Nights Blitz eighty years on, Elaine's ethos, combined with the importance of collective responsibility, protective safety measures, and resilience in a crisis is particularly pertinent in our current uncertain situation.
Linda Evans, Dylan Thomas Centre
Sources:
'Among some Swansea schoolboys: Dynefor secondary grammar school for boys 1939 – 1945' by Tudor Price
https://civildefenceassociation.uk/history
Rebuilding Swansea 1941-1961 by Dinah Evans, A West Glamorgan Archive Service publication
'Swansea at War' Evening Post Pictorial edition
'The Collected Letters of Dylan Thomas'
'The Swansea Blitz' by Elaine Kidwell (nee Griffiths) A Swansea Library & Information service publication, 2001
This post is also available in: Welsh