Florence Thomas | Part 4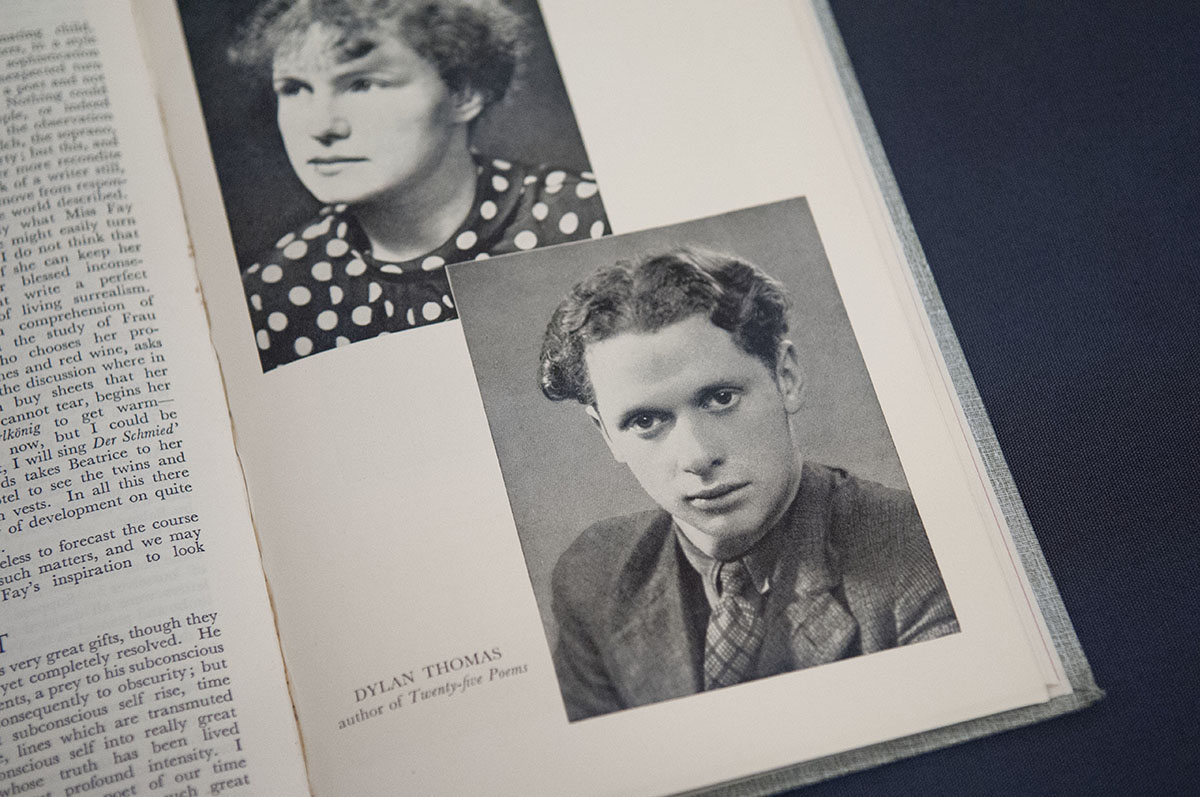 'His mother was still removing the tops off his boiled eggs when he was seventeen.'

Paul Ferris, Dylan Thomas: The Biography
In part 4 of her series of blogs about Florence Thomas, Katie looks at the ways in which Florence supported Dylan after he left school.
During the early 1930s, having left school, Dylan was living at home and being supported by his parents. It would appear they had recognised his talent for writing at an early age. When Randolph Fulleylove knew the thirteen-year-old Dylan, his memory – collected in Dylan Remembered Volume One – was that'they had a form of dinner wagon, with two cupboards absolutely packed with his writing.' In a letter Nancy wrote to Haydn Taylor in early 1933, she complained of an incident where she was stopped from writing due to Dylan needing the ink.
In addition to incidents in Nancy's letters, documented in Paul Ferris' Dylan Thomas: The Biography, there are other implications that Dylan was difficult to live with. Although the date is not specified, there was an situation where Dylan was expelled from home and went to live in a bungalow in Limeslade with Hedley Auckland for the summer. In Dylan Remembered Volume One Auckland stipulates 'Sunday morning breakfast would be pineapple chunks and burgundy.' If they were 'in favour' they would spend the weekdays in Swansea and only the weekends in the bungalow. Auckland speculates that it was probably an argument with his father rather than Florence that led to this: 'at any opportunity, Dylan would go home to mum and she would welcome him with open arms.' In 1933, when D.J. was ill with cancer, Andrew Lycett, in Dylan Thomas: A New Life, documents that Dylan went reluctantly to Blaencwm to stay with his uncle and aunt to 'relieve his mother.'
All the time Dylan was at home it would appear that Florence continued to mother him. In letters to Pamela Hansford Johnson he refers to breakfast being brought to his bedside in the morning for example. In 1933, after he left his job at the newspaper, Dylan began spending a lot of time around his friend Bert Trick's house. His mother was relatively content with the connection: Florence told Nell, Trick's wife, that she was 'happy in her mind' when Dylan was there as he wouldn't be getting up to any escapades. However, according to Lycett, she also asked Nell for her recipes for blancmanges and jellies – Dylan's favourite – perhaps in the hope that she could tempt him to spend more time at home instead.
In September of 1934 the senior Thomases had the opportunity to meet Dylan's then girlfriend Pamela Hansford Johnson. She stayed at the Mermaid in Mumbles with her mother and the pair would go to Cwmdonkin Drive for dinner. Lycett stipulates that Pamela found D.J. to be charming but Florence's 'interminable chatter wearying.'
Dylan was travelling and staying more frequently in London. After several visits, often staying with his sister or friends, Dylan decided to move there and live with his Swansea friend, the artist Fred Janes. In November 1934 – a month before his first collection, 18 Poems, was published – the move took place, however it wasn't something his parents were altogether happy about. Although, according to Ferris, Fred Janes was 'trusted', Florence still sent Dylan a pound a week to support him. Haydn Taylor also received a letter from them asking for him to locate Dylan because Florence was afraid her son did not have enough socks. They must have been concerned for his wellbeing; he had gone back to stay with them over Christmas, but only two weeks after he had returned to London, they decided to travel there to visit him. The visit would not have eased their concerns. D.J. sat down on the camp-bed and it promptly collapsed. Lycett documents Florence as recalling 'If there was one empty, dirty milk bottle, there were twenty'. While in London the D.J. and Florence also paid a visit to the Hansford Johnsons. There, they accidentally sullied the already failing relationship by mentioning that Dylan was not yet twenty-one – he had led Pamela to believe she and he were the same age.
 Although, according to Ferris, Florence was to say: 'I think the boys had a very happy time', it wasn't long before Dylan had moved back home, after what Florence called 'a breakdown'.  He travelled to London after that, but Cwmdonkin Drive was to remain his main base for the next year or so. There, if Dylan was staying up, writing a book review for example, Florence would stay up late with him, ensuring he had enough coffee. In Dylan Remembered Volume Two Fred Janes recalled that Florence was always hospitable, feeding them 'huge tables of sandwiches' and always making them welcome. However, in 1936 the dynamics were set to change once again, as the Thomases decided to move house and Dylan met a young woman called Caitlin Macnamara…
Katie Bowman, Dylan Thomas Centre
This post is also available in: Welsh