Dylan Thomas' Journeys to America | Part 2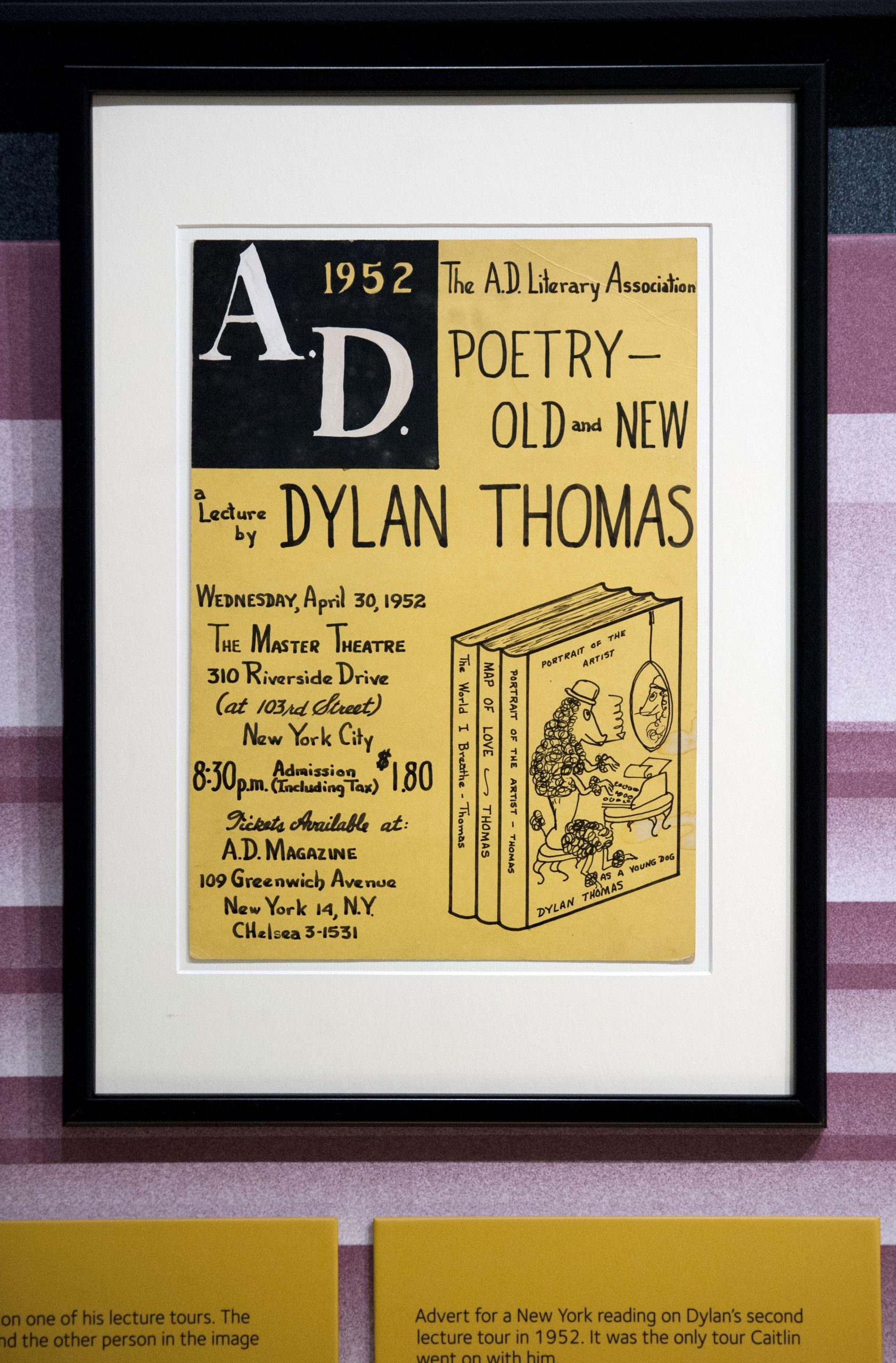 In the second part of her blog on Dylan's modes of transport, Linda Evans looks at his second tour of the US, when he was accompanied by Caitlin.
Soon after arriving in New York for his first reading tour of America in 1950, Dylan wrote to his wife, Caitlin, 'this terrible, beautiful, dream and nightmare city … would only be any good at all if we were together in it, if every night we clung together in it'.
By the time he returned to Laugharne, over three months later, the strain and daily grind of caring for their young family alone had taken its toll on Caitlin. When John Malcolm Brinnin, Dylan's tour manager and author of 'Dylan Thomas in America', visited Laugharne the following summer and discussed plans for another tour, her response was 'I'm left here to rot in this bloody bog with three screaming children and no money to pay the bills'. In spite of that outburst, by the time he left Caitlin was talking of accompanying Dylan to America, 'as if that was what she most had had in mind all along', although it meant leaving their children behind in the care of others.
Dylan had not enjoyed his first, seemingly endless, transatlantic flight to America 'cooped up in the stratosphere', so on this occasion they travelled by passenger liner from the port of Southampton on 15th January, 1952. It was at one time doubtful whether they would make the sailing; the American consulate refused to revalidate Dylan's visa until they had investigated his 1949 visit to Prague, in communist Czechoslovakia, as guest of the Writer's Union. (Ironically, this trip was before his first journey to New York.) He sounded doubtful when he wrote to John, 'perhaps everything will work out okay. It's just that there's such very little time'.
On the Cunard White Star British passenger list, dated 15th January, Dylan's occupation is described as 'Post' (sic) and Caitlin's as housewife. Their home address is given as 54 Delancey Street, London. This was a basement flat in Camden Town, bought by his generous patron, Margaret Taylor as a London base for the family in addition to their Welsh home, the Boat House, which she also purchased for them.
John, who was paying for their cabin class passage, jokingly promised to lay on a red carpet if they caught their sailing on the Queen Mary. On 16th January he received confirmation via a cablegram, (a message sent by a submarine telegraph cable): 'See you Pier 90 Sunday, Bring Carpet Love Dylan Caitlin'. He was duly waiting at the berth to welcome them at midday on 20th January 'with a small square of royal red carpet'. Both disembarked, well prepared for the bitter New York winter weather: He observed that Caitlin wore a black fur hat, fur-tipped boots, and carried a large fur muff; Dylan was in the 'great bulky brown parka that gave him the appearance of an errant koala bear' that he had previously arrived in for his first tour.
Dylan's second tour was, professionally, a success, but was marred by 'loud and stormy' arguments between the couple, usually concerning 'those fool women who chase after him'. However, after Dylan failed to pay his son's school fees and Llewelyn was sent home, it resulted in a particularly ferocious quarrel, with Caitlin threatening to end the marriage and leave: 'I started to pack my bags and tried to book a ticket on the next plane back to London'.
She endured the final few weeks and on May 16th they set sail for Southampton on the liner Nieuw Amsterdam, owned by Holland America Lines. It had been refitted in 1947 after being requisitioned by the Navy during World War Two, and was a comfortable ship. Unfortunately, the voyage home was marred by poor weather; Dylan wrote to an acquaintance that it was 'Very rough and rocky in mid ocean'. He also wrote a letter of thanks to his tour manager from the ship, explaining they would be returning to Laugharne, not Camden Town, on arrival in Southampton, thereby ensuring 'what money there is' was sent to the Boat House.
Back in his writing shed at Laugharne, after four months away, Dylan expressed his relief on being back on home ground, writing a short (below-par) poem 'Letter on Returning to Wales from the United States of America 1952'. The opening lines read 'At home, sweet Christ, at last,'. Nevertheless, in late summer Dylan briefly met his literary agent in London and John recalls he 'began very seriously to speak of returning to America' for a third time, and was relying on him to make the arrangements to reunite in New York for 'another whole roundabout of a tour' the following spring.
Linda Evans, Dylan Thomas Centre
This post is also available in: Welsh