National Play Day
Date/Time
02/08/2023
10:00 am - 4:00 pm
Wednesday 2 August
This year's theme, 'Playing on a Shoestring', focuses on the everyday low-cost or no-cost play adventures that children can enjoy at home, in settings, and in our communities. At the Dylan Thomas Centre we love creative play, so our activity for National Play Day draws both on Dylan's sense of fun and his poem, 'The Hunchback in the Park', where he writes about 'the fountain basin where I sailed my ship'. We'll have a range of activities both on and offsite; all the details are below.
At the National Waterfront Museum, 10am – 2pm:
We'll be at the main Play Day event with our creative team making Dylan inspired paper Quote Boats. Make your boat using a whole host of exiting recycled materials, add some fun features and sail it on our play pool pond. How well will your Quote Boat float!
At the Dylan Thomas Centre, 10am – 4pm:
Looking for some quiet time away from the hustle and bustle of the main play day event? The Dylan Thomas Centre's free entry 'Love the Words' family friendly interactive exhibition is open from 10am – 4.30pm. The exhibition also has free to use sensory bags available from the front desk. All exhibition staff have received autism awareness and family friendly training and would be delighted to welcome you to our exhibition. Why not pick up a free creative play pack from our front desk? Our pack features themed sheets and activities for you to make at home.
Online:
If you can't join us in person for National Play Day, you can make your own Quote Boat at home! Here's all the info you'll need to Make your own Quote Boat – DylanThomas.com. We also have a whole host of free family activities for you to enjoy here: Activities and Downloads – DylanThomas.com.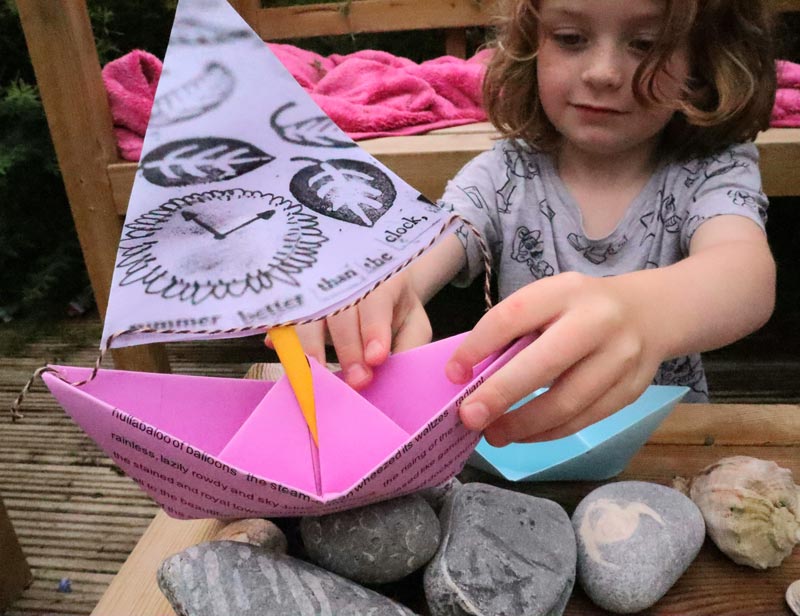 This post is also available in: Welsh