'Who goes there?' – Dylan Thomas' 'A Story'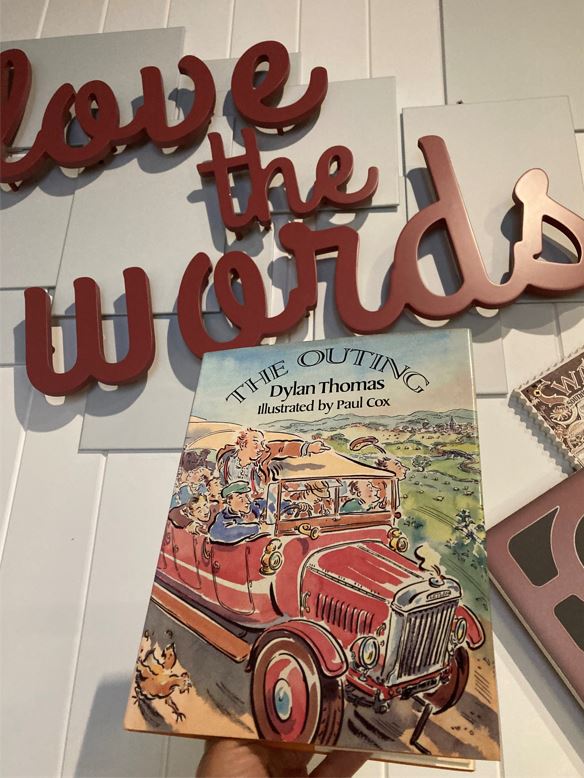 'There's no real beginning or end and there's very little in the middle.' Katie looks at Dylan Thomas' fantastic 'A Story'.
On 9th April 1953, Dylan made his television debut in a programme called Home Town – Swansea. It also featured Vernon Watkins, Alfred Janes and Daniel Jones. On the 10th August the same year he made his second appearance, this time in an episode of a series called Speaking Personally. In that episode he told 'A Story' (later also known as 'The Outing'). Although, according to Paul Ferris in Dylan Thomas – The Biography, the Controller of TV Programmes in London had reservations, reviews in the national papers were positive, one referring to it as 'a joy' and Reginald Pound – in The Listener (20th August 1953) – saying it 'fell only just short of being a television tour de force.' Remarkable considering, as Ferris states, the script was still incomplete when he arrived to broadcast it. It was broadcast from the Dean's Library at St Asaph Cathedral in North Wales and the script was first published in The Listener on17th September 1953. Although, unfortunately, the visual footage has not survived, it is still possible to hear the soundtrack and listen to Dylan telling the tale.
Caitlin, in Caitlin: Life with Dylan Thomas describes 'A Story'as one of Dylan's 'most successful short stories'. It is certainly one of my favourites. It tells the simple tale of a group's annual outing to Porthcawl in a charabanc. Although Porthcawl is the intended destination, the charabanc makes stops at every pub along the way and they never make it to the sea.
What I particularly enjoy are the wonderful character descriptions, especially those of the small boy's uncle and aunt. The images Dylan conjures of both are a delight to read, particularly his use of similes and metaphors. For example, his uncle is described as too big for the house: 'like an old buffalo squeezing into an airing cupboard' and 'as he ate the house grew smaller'. We are given, in contrast, a mouse-like image of his aunt who is described as leaving the room to 'squeak in a nook or nibble in the hayloft.' On one occasion, not knowing the exact location of his aunt, he speculates '[p]erhaps she was inside the grandmother clock, hanging from the weights and breathing'. We are told 'She was so small she could hit him only if she stood on a chair', a fact used to great comic effect later in the piece when his uncle chooses to go on the outing rather than stay with her.
A great deal about the characters is portrayed with dialogue. My particular favourite is Mr Weazley, who has some wonderful one-liners. He is unimpressed that a small boy is being brought along; 'Boys is nasty' he says. When someone else points out that it's better to bring a small boy than a grandfather he retorts 'Grandfathers is nasty too' before admitting 'I'm a grandfather.' After they set out, he requests that they turn back because he's forgotten his teeth. When he explains that he might need them in case he needs to smile, there is a unanimous response of 'Not you.' Throughout the journey he frequently calls for them to stop the charabanc – usually as a pub looms on the horizon – because he's 'dying of breath'.
The story is told from the young boy's perspective and there are some lovely child's-eye-view observations. On one occasion he enters the drinking establishment and observes that he could hardly recognise the members: 'They had all changed colour.' He also notes: 'On the floor was broken glass and Mr Weazley.' These understated comments all add to the overall comedy of the piece.
What becomes of these intrepid travellers? Does Bob the Fiddle get his comeuppance for stealing the treasury funds? Does the new treasurer, Benjamin Franklyn, ever manage to escape the watchful gaze of Will Sentry? What happens when a policeman, with his 'buttoned, blue voice', catches them all drinking in a closed pub? I'll leave you to read for yourselves. 'A Story'is currently available in Collected Stories and the Dylan Thomas Omnibus.
Katie Bowman, Dylan Thomas Centre
This post is also available in: Welsh