A Visit to Grandpa's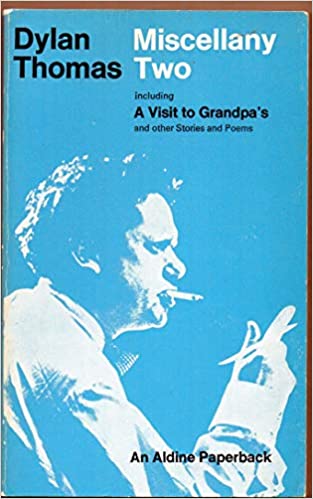 In our latest blog, Katie reflects on one of her favourite Dylan Thomas stories, 'A Visit to Grandpa's'.
Mr Griff shook his head and mourned: 'I didn't expect this again from Dai Thomas.'
'Not after last time,' said Mr Price sadly.
'A Visit to Grandpa's' first appeared in the New English Weekly in March 1938. It was the first of ten stories Dylan wrote for inclusion in his book, Portrait of the Artist as a Young Dog, which was published on the 4th April 1940. The stories were referred to by Thomas as 'semi-autobiographical'. According to his mother Florence, in an interview with Colin Edwards in 1958, the tale was based on a story Dylan's father D.J. Thomas told Dylan when he was a small boy. It is believed 'Grandpa' was D.J's grandfather, William Thomas.
Following the successful broadcast of 'Reminiscences of Childhood', Dylan replied to a letter from Lorraine Jameson at the BBC in Cardiff in August 1945, inviting him to submit further work for her 'Children's Hour' programme. They discussed a proposal for 'Memories of Christmas' and Dylan suggested that he also read 'A Visit to Grandpa's'. Jamieson thought 'A Visit to Grandpa's' was 'not really suitable for children' but mentioned it to Aneirin Talfan Davies who was the talks producer at BBC Cardiff. Davies approved of it; it was finally recorded for the BBC in January 1947 and broadcast at 10.30pm on the Home Service on Wednesday 8th of January.
It was in audio form that I initially encountered 'A Visit to Grandpa's'. It was the first short story of Dylan's I had come across and it has remained a firm favourite. It is always an experience to hear an author read their own work, and Dylan's reading was captivating, combining a rich narrative voice with the acutely observed voices and accents of the characters. It demonstrates both his diversity as a performer and his ability as a storyteller. In relatively few words Dylan manages to create some wonderful visual scenes and beautifully defined characters.
The story is a relatively simple one. A young boy is staying with his eccentric grandfather. On the last day of his visit a drama ensues when his grandfather goes missing, last seen wearing his finest waistcoat. Once it has been ascertained that they had taken a trip to Llanstephan the day before – an ominous detail – a search party, consisting of half the village, is formed to bring the wayward gentleman home. As with many of Thomas' stories, it doesn't so much finish as stop, leaving you with questions of what happened next and wondering how the resolution was found.
It is the attention to detail that really makes the story so immersive. In the opening scene, the boy is going to bed and says of that night: 'The floorboards had squeaked like mice…. and the mice between the walls had creaked like wood'. Already an atmosphere is created that reflects the workings of a young child's mind going to sleep in an unfamiliar place. Before we directly encounter his grandfather we are given an indication of his eccentric nature. The young boy's mother had warned him to stay alert in case his grandfather had 'set his bedclothes on fire', given his habit of lighting his pipe underneath his blankets.
Throughout the story there are some wonderful touches of humour and observational comedy. For example, the boy notes that the ducks swim in the gutter under the doorsteps of the house despite there being a pond close by; wilfully disregarding the sign the parson has written stating 'This way to the pond'. My favourite passage – excluding the revelation of why Grandpa had gone on his expedition, which I refuse to disclose – is the trip the pair take to Llanstephan. They travel in a cart pulled by 'a short, weak pony.' I love the contrasting language used to describe the grandfather's reactions to the pony's actions, how he 'cursed the demon strength and wilfulness of his tottering pony.'
As I say, I do not want to spoil the conclusion of the tale, but the final interaction between the people of the village and the boy's grandfather is wickedly dry and funny and had me eager to read more about the old gentleman's antics. Although this was to be the only story about Grandpa, Dylan recounted some equally entertaining tales about his uncles, which I will elaborate upon further in a future blog.
Katie Bowman, Dylan Thomas Centre
This post is also available in: Welsh