We're being taken over for Kids in Museums Takeover Day!
For this year's Kids in Museums Takeover Day, we've teamed up with Swansea Museum and Loughor Brownies!
Over the last month, we've worked together to help the Brownies work towards a new badge, the Centenary of Women's Votes Challenge. It has been produced for the 100th anniversary of partial Women's Suffrage and the Brownie Pack has been learning all about suffrage and suffragists in Swansea in conjunction with the Museum's current exhibition, 'Votes for Women'. The girls have produced a number of pieces of work to be included in the exhibition, and we had a fantastic session on slogan writing, where the girls thought about the power of words and what makes a memorable slogan.

They all produced posters with their slogan on it, and created, with artist Rhiannon Morgan, their very own suffrage banner. The girls become exhibition designers and technicians deciding on how their work will be exhibited, installing it into the gallery space and curating a case of their own work, all the while getting inspired and learning about how museums operate.
Takeover Day Wales is a celebration of children and young people's contributions to museums, arts organisations, galleries, archives and heritage sites. On or around the Day itself – 15 November – young people are offered meaningful roles working alongside staff and volunteers to participate in and understand the life of the museum. Both the Dylan Thomas Centre and Swansea Museum have been taken over many times in recent years!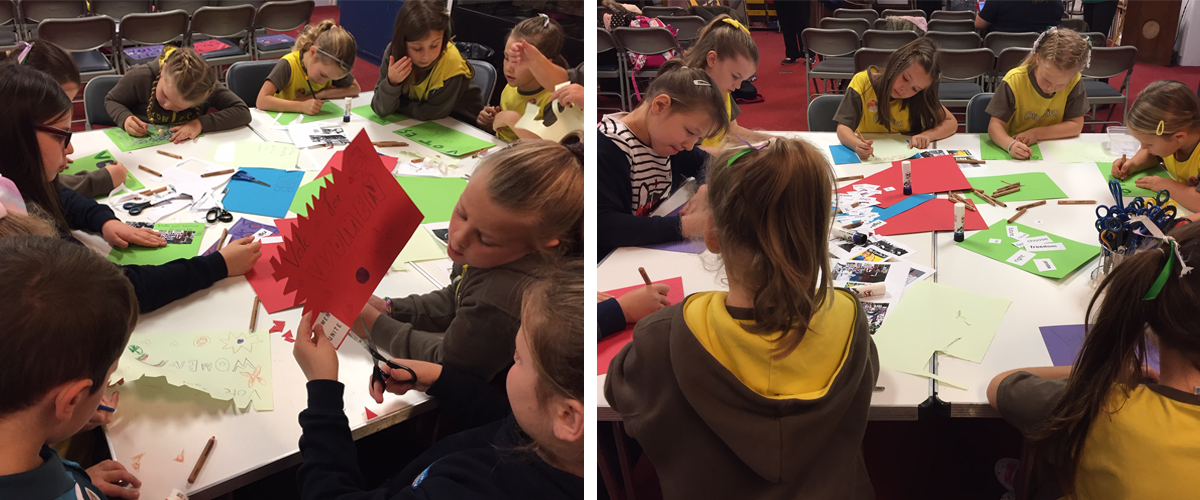 What's more, the Dylan Thomas Centre's primary age Young Writers Squad are staging a creative takeover of the 'Love the Words' Exhibition on 17 November, when they'll participate in a special workshop where they'll imagine their own museums, and create characters and scenarios based in them. There's more information on our Young Writers Squad here or send us an email at dylanthomas.lit@swansea.gov.uk
This post is also available in: Welsh