Poem of the Month: 'And death shall have no dominion'
'Though lovers be lost love shall not;
And death shall have no dominion.'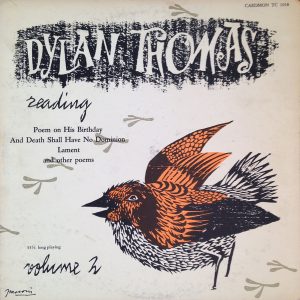 I remember the first time I came to the Dylan Thomas Centre: I purchased a CD of Richard Burton reading Dylan Thomas poems and sat in the café eating a chocolate brownie. The poem that particularly struck me in that collection was 'And death shall have no dominion', Burton's rich voice combining with the hypnotic rhythm and powerful refrain. I've now been working at the Centre for ten years and it's still one of my favourite Dylan Thomas poems.
I was interested to discover that it was one of Dylan's earliest poems, written after his friend, Bert Trick, suggested they should each try and write a poem on the subject of 'Immortality'. Trick persuaded Dylan to find a publisher for his piece, resulting in 'And Death Shall Have no Dominion' appearing in the New English Weekly in 1933. It was later included in Thomas' second collection, Twenty-five Poems.
There are three stanzas, each nine lines long. The refrain, which begins and ends each stanza, is believed to have come from Paul's epistle to the Romans 6:9 'Knowing that Christ being raised from the dead dieth no more; death hath no more dominion over him.' The first stanza describes the continuation of the soul after death, with 'stars at elbow and foot'. The second suggests that regardless of any hardships endured by the body, the soul survives unaffected. The third suggests that although the body can no longer experience nature ('no more may gulls cry at their ears'), it still contributes to the natural order and the circle of life.
Despite Dylan dying over sixty years ago, we are still enjoying his words and his legacy, which surely demonstrates that death really does not have dominion.
'And death shall have no dominion' is included in Dylan Thomas' Collected Poems.
Katie Bowman,
Dylan Thomas Centre Attendant
This post is also available in: Welsh