Nancy Thomas: Part 5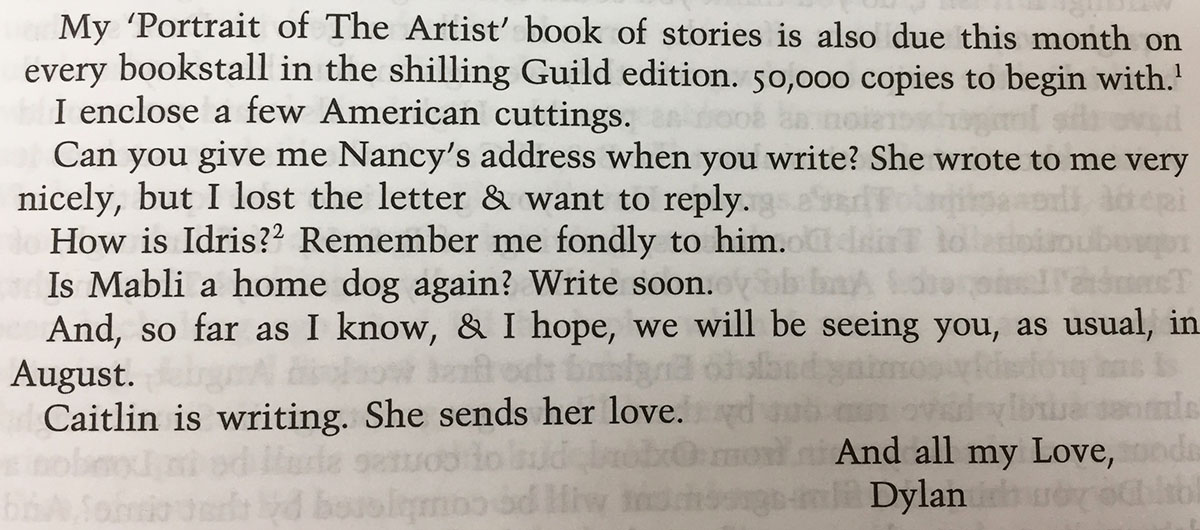 In her final blog (for now) on Nancy Thomas, Katie discovers what happened to her after the war.
Although Nancy's husband, Gordon Summersby, initially remained in India working for IBM after the War, Nancy returned to England. It is difficult to pinpoint when exactly, but I did come across a passenger list for a boat named the Strathnaver, which travelled from Bombay to Southampton on the 6th February 1946. One Nancy Summersby, occupation F.A.N.Y, was on board. The date of birth of the passenger doesn't tally, but could this have been Nancy being evasive about her age? Census records show a Nancy M Summersby living in the London area in 1947.
In Dylan Remembered Volume 1 Doris Fulleylove recounted a wonderful tale of Nancy enrolling on cookery and flower arranging courses sometime after she had returned to England. Putting her cookery course to good use, she went on to make the wedding breakfast for none other than her first husband Haydn Taylor, who was getting married to his secretary.
Meanwhile, the Thomas parents had moved from Bishopston to rented accommodation in Blaencwm, Carmarthenshire, in 1941. They had sold Cwmdonkin Drive in 1943. In the winter of 1947/48 Florence fell and broke her leg and had to go to hospital in Carmarthen. Nancy and Gordon where living in Brixham, Devon, at that time where Gordon ran a trawler and sold seafood to local restaurants. (As an interesting aside, Gordon Summersby's first wife was Kay Summersby who, after joining the Mechanised Transport Corps at the start of the War, went on to become General Eisenhower's chauffeur and then personal secretary.) Nancy travelled to Blaencwm to look after her father as Florence was due to stay in hospital for several months. In January or February, shortly after her accident, Dylan went to visit and described the situation to Caitlin in a letter: 'Here it's snowbound, dead, dull, damned; there's hockey-voiced Nancy being jolly over pans and primuses in the kitchen…' As Nancy couldn't stay in Blaencwm, it was decided that D.J would go to live with her and Gordon in Brixham for the duration of Florence's hospital stay. Dylan volunteered to take their dog, Mably, home with him as Nancy already had a Labrador retriever and wouldn't have enough room for both.
In the April, Florence was due out of hospital. After a telephone conversation with Nancy, Dylan travelled to Brixham on around 22nd of April to visit them. He decided – without consulting Caitlin – that his parents should live with them in South Leigh. Nancy's house was too small to accommodate them, and she and Gordon were planning on moving back to India imminently as his business was not faring as well as hoped. Although Dylan and Caitlin physically supported Florence and D.J thereafter, it was Nancy and Gordon who provided financial support with bills and rent.
It appears, however, that Nancy and Gordon stayed in the UK a little longer, as their next venture was to run the ferry between the English mainland and Lundy Island. Although the source material, or lack of, tends to imply that Nancy and Dylan were not close in later years, Malcom and Ruby Graham recalled that Dylan would send, or rather instruct his publishers to send, books out to Nancy when she was living on Lundy. Ruby added that Dylan always spoke affectionately of her. Caitlin, in Caitlin – Life with Dylan Thomas, described seeing a different side to Nancy while she was in Lundy: 'a more open-air, tomboyish side, but we never really got through to each other and never shared any confidences.'
It is unclear when Nancy and Gordon finally moved back to India, but it was possibly during 1950 as, in a letter to Helen and Bill McAlpine dated 12th November 1949, Dylan tentatively suggested that Nancy and Gordon could look after Aeronwy in the Boathouse while he and Caitlin were in America, clearly indicating they were still based in the UK at that point. Paul Ferris, in Dylan Thomas: The Biography, states that Nancy visited from India in the summer of 1952. She was unwell and cancer was the diagnosis. She had an operation in London and returned to India in the September. Nancy died in India on 16th April, 1953, four months after her father and seven months before her brother.
Katie Bowman, Dylan Thomas Centre
This post is also available in: Welsh