Florence Thomas: Part 6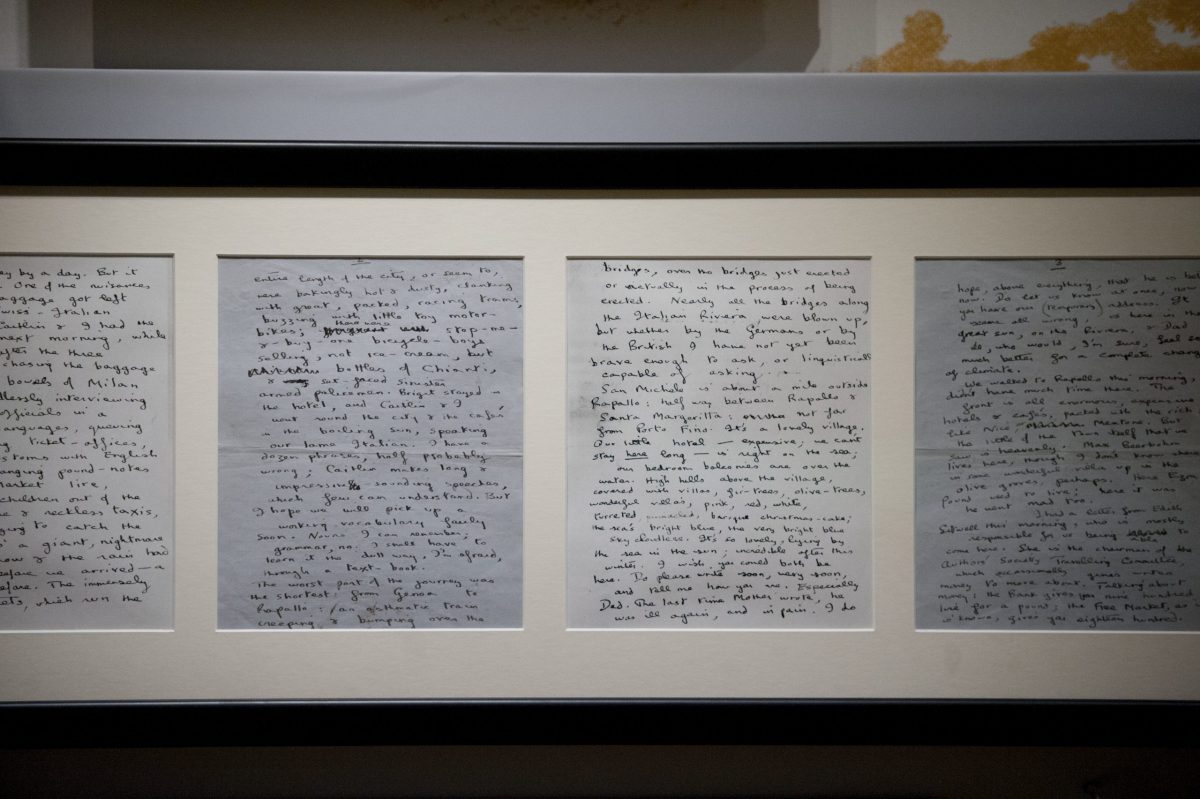 In the sixth blog of her series focusing on Florence Thomas, Katie looks at the dramatic changes brought about by the outbreak of war.
When War broke out, Nancy joined the Women's Territorial Army and became a driver for the officers. With regard to Dylan, according to Andrew Lycett in Dylan Thomas: A New Life, D.J. and Florence were 'keen for him to be seen to be doing useful war service'. Florence had told Nancy that Dylan had joined up, however this was not the case; he failed an army medical and later worked on behalf of the Ministry of Information writing film scripts to inform and boost morale.
In 1940 it was their offspring's marriages that were to cause them the most concern. Nancy and Haydn divorced and it would appear that Florence found this situation difficult to come to terms with, and was afraid that the family would lose respectability as a result. Paul Ferris, in Dylan Thomas The Biography documents that years later, after Nancy had married again, Florence told her friend Ethel Ross that Haydn had died. The following morning she confessed: 'He isn't dead, but I didn't want to say she'd been divorced. I've always told a white lie for Nancy's sake…'.
Dylan's domestic situation was to also come under scrutiny. Caitlin had told Dylan that she was going to visit his parents and spend some time in Laugharne, being away for a total of three nights. However one of those nights she actually planned on spending with William Glock in a Cardiff hotel, in what she described as her 'first serious affair' since marrying Dylan. The encounter was unsuccessful but Florence, knowing that Caitlin had only spent two nights with them, drew Dylan's attention to the discrepancy in Caitlin's itinerary. Caitlin in Caitlin: Life with Dylan Thomas recalled 'this farce turned into a real drama when his wretched mother gave the game away… She wrote to Dylan, and he realised.'
In February 1941, Swansea was heavily bombed and Florence and D.J decided to move to Llansteffan. Dylan's Uncle, the Reverend David Rees (who had once allegedly said Dylan should be in a madhouse and of whom Dylan had written a poem containing the line 'I hate you from your dandruff to your corns') had died in 1939, and Florence had been regularly visiting his widow, her sister Dosie, to look after her. In April 1941, Dosie died and D.J. and Florence decided to move in to the now vacant cottage. In the adjacent cottage Florence's sister Polly was a live-in carer for their brother, Bob. According to Ferris, Polly was 'a chatterbox' and D.J. was 'dismayed at the prospect of having his wife's relatives on the doorstep.' However, living at Blaen Cwm would be cheaper and safer and in the June the Thomases moved there. Apparently, as documented in Dylan Remembered Volume One, there was a delay in the move due to a dispute with their landlady in Bishopston – some manure had been delivered and dumped in the garden and she wouldn't pay the £1. 10s for it!
In 1943, with Cwmdonkin Drive now finally sold, the Thomases looked to be settled in Blaen Cwm. Dylan and Caitlin would stay with them when they were between accommodation – in 1944 in the Summer before they moved to Majoda in New Quay, and in 1945 before they moved temporarily to London. Dylan and Caitlin now had two children, Llewelyn and Aeronwy, and Florence was a devoted grandmother, especially close to Aeronwy in later years. Caitlin believed that D.J. and Florence 'began to appreciate' her after she had had children. In Caitlin: Life with Dylan Thomas she states: 'Granny Thomas really came into her own when the children were born: she was a great extrovert… she was good with the children, especially Aeron, because that was her line.'
Although there is scant information in the sources about D.J. and Florrie during the mid-forties, there are references which imply that their health was not particularly sound. In a letter to Vernon Watkins on 26 August 1944, Dylan expresses reservations about leaving Aeronwy with Florence: '[she] is never very well and it's rather a strain for her to look after Aeronwy for a whole day.' When Florence went to New Quay to look after the children while Dylan and Caitlin attended preliminary trial hearings regarding 'The Majoda Incident' (an incident to be discussed in a future blog), Andrew Lycett describes D.J. remaining at Blaen Cwm '"awfully ill" with suspected heart disease.' On 5 May 1947, writing to the couple from Italy, Dylan makes further allusions, stating: that they 'hope Dad is better & that Mother is able to carry on.' However, their health was to deteriorate further, with an event in January/February of 1948 being the catalyst to permanently alter the family's domestic arrangements. In the next blog we shall explore this further.
This post is also available in: Welsh