Dylan's Travels
Our theme for our May half term activities is Dylan's Travels. Although Dylan spent much of his life living and writing in Wales, he travelled across the UK for poetry performances, broadcasts and other engagements. He spent a summer in Donegal in 1935 where he worked hard on his poetry and wrote nostalgically to Swansea friends like Dan Jones:
'We must, when our affairs are settled, when music and poetry are arranged so that we can still live, love, and drink beer, go back to Uplands or Sketty and found there, for good and for all, a permanent colony; living there until we are old gentlemen, with occasional visits to London or Paris…'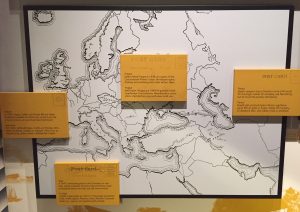 From the 1940s onwards, he travelled much more widely. In 1946 he and Caitlin visited Ireland with their friends, Bill and Helen McAlpine. Dylan and Bill probably met as firewatchers in London during the war, and from the mid-1940s, the couples became good friends and enjoyed travelling together. Dylan said that Bill: 'knows more about my poems than I do and … reads them, aloud, extremely well.'
A 1947 scholarship from The Society of Authors paid for a family visit to Italy, where Dylan complained about the heat but did some writing: 'I live on red wine, cheese, asparagus, artichokes, strawberries, etc. The etc. is usually more red wine.'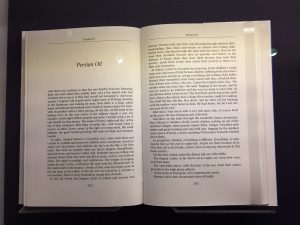 In 1949 he enjoyed opera and poetry in Prague, as a guest of the Czechoslovak Writers' Union. A research trip to Persia in 1951 was fascinating, but he found the poverty distressing. Dylan was paid £250 to write a film script for the Anglo-Iranian Oil Company in Persia – he asked for £10 a week to be sent directly to Caitlin.
Dylan's US tours were eagerly anticipated. On the first three, in 1950, 1952 and spring 1953, he was reliable, hardworking and successful – attracting thousands of fans at over 60 institutions. He met important writers and artists, and was revered. It was thrilling and financially rewarding, but punishing, and it was on the fourth tour in the autumn of 1953 that Dylan died.
His work has now been translated into over 30 different languages, and people from all over the world visit Swansea to discover more about the 'Rimbaud of Cwmdonkin Drive'.
There's much more information on Dylan's travels in our free 'Love the Words' exhibition, and please see www.dylanthomas.com/events for more information on our half term activities.
This post is also available in: Welsh