'Summer of Stories' : A Creative Writing Workshop for 6-10 year olds with Eloise Williams

Date/Time
08/08/2018
1:00 pm - 3:00 pm
Location
Dylan Thomas Centre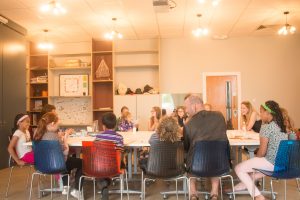 Here comes the sun and it brings blazing adventures! As the temperature rises let your stories sizzle and soar!
Make your sentences scorching, your tales tropical, and let your ideas bubble and boil! Will you build a sandcastle of dreams with your words? Or cast us away to a parched desert island? Will your writing gently lead us down a summery dappled lane? Or will it throw us into the path of the most torrential thunderstorm?
Kick off your flip-flops, ignite your imagination and set the summer on fire!
Caution: Bring ice-lollies. It's going to be hot, hot, hot! And, if you're under 8, bring an adult who is not afraid of fun.
Please book ahead at www.dylanthomas.com or on 01792 463980
All our family events are free, with a suggested donation of £3
This post is also available in: Welsh