First edition of 'The Map of Love'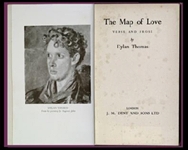 First edition of Dylan's third book, 'The Map of Love', published by Dent in 1939.
The frontispiece inside the book is a black and white reproduction of Augustus John's romantic portrait of Dylan. The book is a collection of short stories and poems, and though his third book, is the first to contain prose, including 'The Burning Baby' and other fairly surreal short stories. The book was only published after a long wrangle with Dylan's editor at Dent, Richard Church, who disapproved of some of the surrealist elements in the writing, but was even more perturbed by what he described as "moments of sensuality without purpose" in some stories. Although scornful of such criticism, (he mocked Church in letters to Henry Treece and Vernon Watkins, calling him a "pie-fingering hack" and "the fish").
Thomas's next book, 'Portrait of the Artist as a Young Dog', contains only prose, and these stories are seemingly more straightforward semi-autobiographical stories based on his childhood and adolescence in Swansea and rural Carmarthenshire.
This post is also available in: Welsh