Rapture at Christmas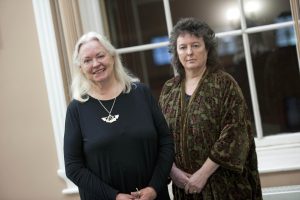 This has to be my favourite season… and not only because Christmas is coming. It's that time of year when we welcome our annual guests, recent National Poet of Wales Gillian Clarke, and Poet Laureate Carol Ann Duffy.
On the 1st December the fabulous duo will be giving readings of their work, a 5pm performance, and another at 7.30. There's always something magical about hearing a poet read their own words and both Duffy and Clarke are well versed (excuse the pun) in captivating an audience.
I love the Christmas books that Carol Ann Duffy writes: my favourite to date is 'Mrs Scrooge', although I have a feeling it may be topped this year by her new title 'Pablo Picasso's Noel', which I can't wait to get my hands on. Gillian Clarke too, is promising something new with her latest title, Zoology, perfectly timed as I have just finished 'Ice' and am itching to read more.
So put the date in your diary and come down to the Centre to listen to these two greats of the poetry world. There'll be opportunity to buy books and have them signed as well. That reminds me, I better go and make some more room on my book shelves…

Katie Bowman,
Dylan Thomas Centre Front of House
This post is also available in: Welsh