Nancy Thomas: Part 3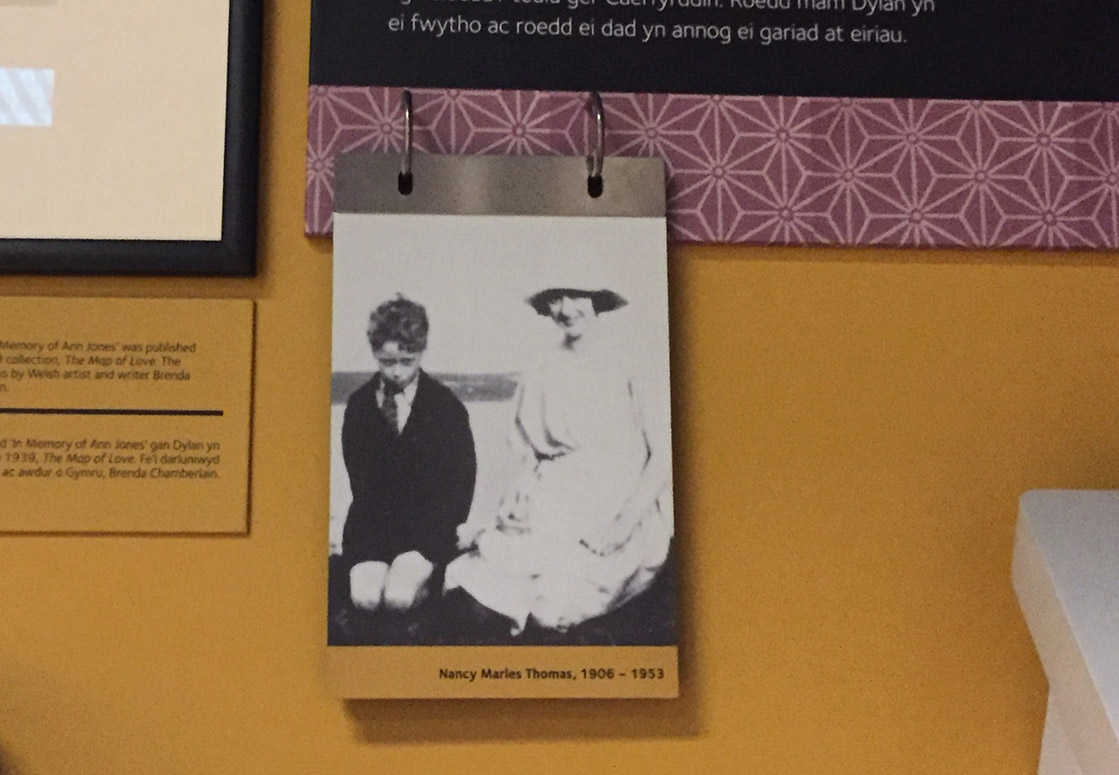 Katie Bowman takes up Nancy's story in 1932. Read on to find out what happens next in her life.
'My only sister passed through the stages of longlegged schoolgirlishness, shortfrocked flappery and social snobbery into a comfortable married life.' – Dylan Thomas, Collected Letters, November 1933
1932 was a year of turbulence for Nancy Thomas. With Haydn away in London, D.J Thomas in poor health and the family in financial difficulty, tensions were running high in Cwmdonkin Drive. Various incidents in the latter part of the year were noted by Nancy in her letters to Haydn, recorded by Andrew Lycett in his biography Dylan Thomas: A New Life. In the September, there were occasions when Dylan had returned drunk late at night and arguments had ensued. Following one such night, Nancy had gone to town the next morning with her friend Gweveril Dawkins. On her return home, a relatively tranquil afternoon was disturbed by D.J's return: 'A very usual Saturday scene… Mother raving and in tears – I, tiniest bit frightened, rush upstairs, dress, & go out in the rain.' On another occasion Nancy claimed her father had sworn at her and thrown a book at her head with the declaration 'Who are you? Nobody cares what happens to you, it's a pity you're alive.'
After returning from her flight to Blaencwm things did not appear to improve, with Nancy writing to Haydn requesting he looked for any sort of job for her in London. Financially, the family were struggling, with Nancy borrowing money from the maid to get stamps to post her letters. The official announcement of her engagement to Haydn, made at Christmas, was not particularly well received. Florence was alleged to have commented: 'remember Daddy won't have any money & any sort of fuss will kill him. If you expect any sort of special fuss or clothes you ought to be ashamed of yourself…'
Nancy may have been newly engaged, but the status brought her no immediate respite from her domestic situation. In the January she was advising her female friends who came visiting not to leave their handbags upstairs with their coats as pound notes would occasionally go missing from their purses. Dylan was the suspected culprit. D.J would complain about her providing coffee and refreshments for her guests, stating that it was him who was having to pay the food bill for 'feeding half of Swansea.' Nancy also claimed Florence once stopped her from writing to Haydn because Dylan, who was now freelancing, required the ink. Haydn would visit and stay at Cwmdonkin Drive on occasion but would ensure he didn't leave his wallet in the bedroom when he went to take a bath for fear of Dylan helping himself to some of the contents.
Nancy and Dylan's Aunt Annie died in the February of 1933. Andrew Lycett suggests the Thomases were financial beneficiaries; shortly after her death they were able to increase their mortgage payments, easing their financial situation. However, a contribution to Dylan Remembered Volume 1 implies that the money was obtained through further borrowing. Nancy and Haydn were married on the 27th May 1933 at St Illtyd's Church in Oxwich. They were married by special license because neither were living in the parish of the Gower village.
The newly-weds moved to Laleham (near Chertsey in Surrey), to Wisteria Cottage. During the summer months they would live on a rented houseboat called Fairyland which was kept on the River Thames. In August of that year Dylan went to stay with them in the houseboat. Drama ensued when Dylan fell into the Thames after returning late from one of the local pubs and, not being able to swim, Haydn had to help fish him out with a boat hook. At the end of August, only weeks after Dylan's eventful trip, D.J. Thomas was diagnosed with mouth cancer. Haydn and Nancy travelled back from London to visit, and duly drove D.J to University College Hospital where he was admitted on the 10th of September for a week-long treatment involving radium needles.
In 1934 Dylan would travel to London and stay in Laleham with Nancy. On one of these visits he took Pamela Hansford Johnson to meet his sister and brother-in-law. Andrew Lycett documents that Pamela Hansford Johnson found the pair to be 'obsessively conventional.' It was possibly during this stay that Nancy invited Dylan to attend a literary event in London. Doris Fulleylove recalled Nancy being rather distressed when Dylan arrived late wearing 'green trousers and orange shirt and yellow tie' – Nancy, who prided herself on appearances, was mortified. However, given that Nancy had bought Dylan 'a startlingly yellow tie and a peculiar pair of string gloves' the Christmas before, she may partly have had herself to blame.
To be continued…
Katie Bowman, Dylan Thomas Centre.  
This post is also available in: Welsh