A Poem in the Chamber Pot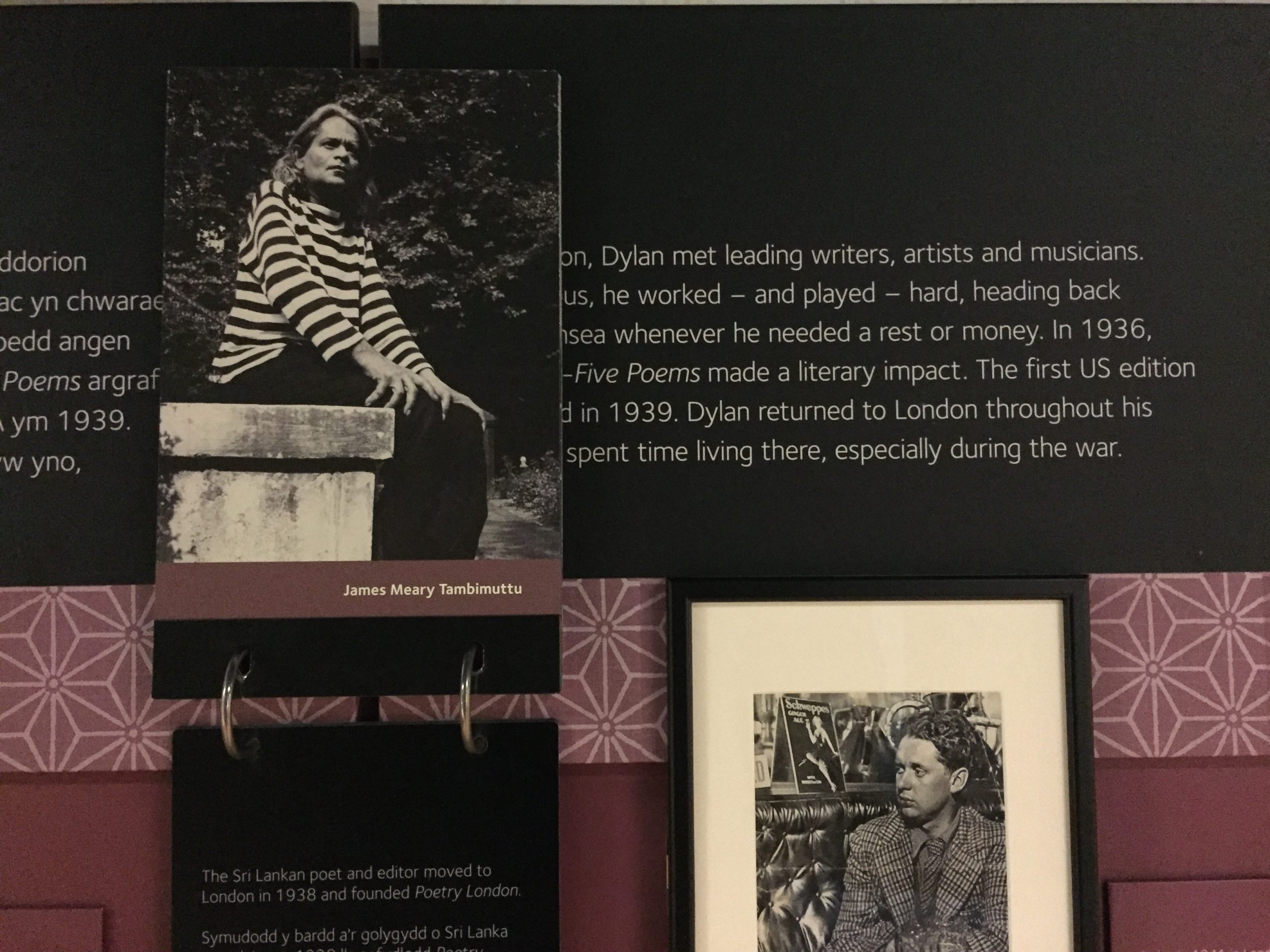 The Dylan Thomas Centre's Charlotte Rogers explores the life, work and influence of Tambimuttu.
As a central figure within the literary (and social) circles of his day, we find Dylan Thomas' name connected with many other writers: Edith Sitwell, Vernon Watkins, Pamela Hansford Johnson, and Kingsley Amis to name a few. However, there is figure whose creative enthusiasm and astute originality connects so many of the artists that we come to think of today as part of the literary canon – including Dylan.
Meary James Tambimuttu was a Tamil publisher, poet, editor and critic, who passionately advocated for – and contributed to – the literary world of mid-twentieth-century London and New York. He is also rumoured to have coined the famous term 'Fitzrovia', referring to the area of Soho where the great (and often drunken) writers and artists would gather to discuss their art and future prospects.[1]
Born in 1915 in Ceylon (now Sri Lanka,) 'Tambi', as he was known by friends and colleagues, came to London at the age of 22. Within a year of his arrival, he had begun to publish the famous literary magazine, Poetry London, which would feature the work of many iconic names, including Lawrence Durrell, Elizabeth Smart, Diana Gardner, George Barker, and – of course – Dylan Thomas.[2] The originality of the first edition made it an instant sensation, and Dylan himself wrote to Tambimuttu to congratulate him on his innovative choices and his 'unfashionable introduction.'[3] This publication was to set the tone for all of Tambimuttu's editorial and publishing decisions, which were often marked by an instinct for talent that defied convention.
Tambimuttu's endorsement of Dylan's poetry cannot be underestimated. When Poetry London was first published, in 1938, Dylan and his new wife Caitlin were mostly living in Wales, cut-off from the literary scene of the Capital. Though Dylan had successfully published 18 Poems and Twenty-five Poems through J M Dent & Sons Ltd, he was still poor enough to have to borrow money for his wedding licence; and much of 1938 was spent living under the grace of family and friends. Tambimuttu's support was crucial in continuing Dylan's growing reputation as a modern poet worth investing in.
Little did either man know that their legacies would become so intricately linked after their deaths. Amongst scores of literary contacts, it is Dylan's name which appears again and again in the collection of memorial essays dedicated to Tambimuttu, written by friends and colleagues after his death in 1983.[4] It is hard to say whether this is more because of Dylan's centrality to the myth and glamour of the Fitzrovia set than because of any particular intimacy he shared with Tambimuttu himself. Indeed, Dylan is usually mentioned as a steadfast presence in the Hog and Pound or the Swiss in Old Compton Street. He doesn't talk, he only drinks. He's never in the office, always in the pub.
In the second part of this blog, we shall delve a little deeper into their relationship, and into Tambimuttu's literary significance within London. We will also discover how a poem of Dylan's ended up in a most unfortunate receptacle!
Charlotte Rogers, Dylan Thomas Centre
---
[1] Miles, Barry, London Calling, Atlantic Books: London, 2010, p. 11
[2] Williams, Jane, Tambimuttu: Between Two Worlds, Peter Owen: London, 1989, pp. vii-xiv
[3] Ferris, Paul, Dylan Thomas: The Collected Letters, J.M. Dent: London, 2010, p. 413-414
[4] Williams, Tambimuttu
This post is also available in: Welsh