Bookable Quiet Workshop – 'Autumnal Spells'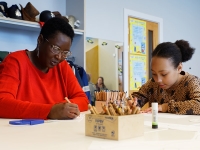 Date/Time
03/11/2023
10:00 am - 12:00 pm
Friday 3 November, 10am – 12pm
This workshop is designed for families who need a quieter workshop experience.
Join us for a magical workshop with a twist! In this workshop you'll create a poem or spell using Dylan Thomas' verse as inspiration! Craft an aged parchment with guidance from our tutors, write with a quill or use the cut up words provided to form your spell/poem, then finish off with some decorative flourishes! (Large print version of the cut up words available.) An 'Autumnal Spells' sensory clay table will also be available during this session.
All our activities are single use plastic free.
This workshop will have a maximum capacity of 24. Please book your free group/family ticket here: https://www.ticketsource.co.uk/whats-on/swansea/dylan-thomas-centre
Free.
This post is also available in: Welsh