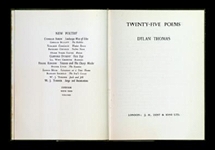 A first edition of 'Twenty Five Poems' by Dylan Thomas. Published by J. M. Dent and Sons Ltd, London in 1936.
This is 1 of only 730 copies from the first print run. Dylan's second collection of poems was also largely based on the notebooks he kept as a teenager growing up in Swansea. He continued to mine these notebooks for poems and ideas until 1940-41 when he sold them to the Lockwood Library of the State University of New York at Buffalo.
As well as the four poetry notebooks, Thomas sold a prose notebook and worksheets for 'Long Legged Bait'. The sale was arranged through a London dealer, Bertram Rota, who was paid $140. It is unsure how much of that $140 Thomas actually received. Thomas' first biographer, Constantine Fitzgibbon, notes that Thomas was 26 when he arranged the sale – the same age as Keats when he died.
This post is also available in: Welsh