Writing Shed Doors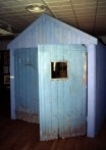 The original doors to Dylan Thomas' writing shed in Laugharne.
Dylan and his family moved to the Boathouse in Laugharne in 1949, after it was purchased by his patron, Margaret Taylor, for their use. The writing shed, perched on the cliffs above the Boathouse, has wonderful views of the estuary and over to Sir John's Hill. Dylan's daughter, Aeronwy, remembers tiptoeing past the shed as a child, and hearing her father read aloud snatches of dialogue from Under Milk Wood, and from poems in progress.
The Thomases lived in Laugharne until Dylan's death in 1953. These doors were saved from the local council rubbish tip by a Dylan Thomas admirer in the 1970s, before finding a home at the Dylan Thomas Centre.