Dylan Thomas as Oliver Cromwell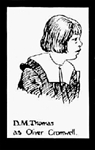 Laminated reproduction of sketch depicting Dylan Thomas as Oliver Cromwell, from Dylan's stage debut as a schoolboy c 1931.
Panel: "Dylan's first stage role" This black and white illustration is the first ever drawing of Dylan Thomas. There is no copyright issue to using this image. Dylan Thomas liked to act, going on to join Swansea Little Theatre Company. He was a natural actor and impressed Richard Burton (Burton reveals this in his memoirs).
A review in the Swansea Grammar School Magazine of Thomas' acting debut states: "D.M. Thomas gave a good performance as Oliver Cromwell, in spite of the fact that physically he was not up to the part . . . he looked as young and fresh and clean as if he had just come off the cover of a chocolate box".
This post is also available in: Welsh