'This Is Not A Poem'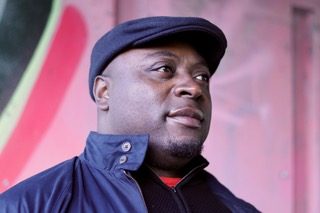 We're delighted to publish this guest blog, by Eric Ngalle Charles and Greg Lewis, announcing This Is Not A Poem, an exciting project we are working on together.
An award-winning team is creating a new short film which will premiere at the Dylan Thomas Centre ahead of a major tour.
This Is Not A Poem is a film-poem exploring issues of diversity and race, and celebrating tolerance and understanding.
It is based on the works of Cameroon-born poet Eric Ngalle Charles, who came to Wales seeking asylum almost twenty years ago and has since become one of Wales' foremost poets.
Eric has performed at the Hay Festival and held a series of writing workshops at the Dylan Thomas Centre. The writer Owen Sheers, who is a keen supporter of Eric, has described his work as using "a unique theatrical language".
In the film producer-director Greg Lewis, who has Bafta Cymru and New York Film & TV Festival awards, edits and reshapes many of Eric's poems into a single narrative which describes why he left his homeland and how he came to settle in Wales.
The central theme of the work is identity and how we can all see ourselves as having several different identities at the same time: south Cameroonian, African, Welsh, for instance. Or English/Welsh-speaking Welsh, British, European.
The themes of the film are especially relevant because of the continuing national debate over immigration and Brexit.
The film will form part of a special event at which Eric will discuss poetry and his own thoughts on race and identity, and encourage discussion with the audience.
"We are all many people in one," Eric says. "And the more we can understand ourselves, the easier it is to reach out to others and to understand them. Greg and I are committed to a message of bringing people closer together and making connections.
"I have worked with the Dylan Thomas Centre for some time, holding writing workshops, and am delighted to be working with them again.
"Working in a building dedicated to Wales' best known poet is an honour for an 'outsider' who has made Wales their home."
The Dylan Thomas Centre is a creative partner in the film, which is supported by the Arts Council of Wales.
Following its launch in September, the film will be shown at a number of venues around Wales and the film-makers are in discussion with festivals in Italy, Greece, and Germany to bring it to an international audience.
Photo: Susy Fernandes Photography
This post is also available in: Welsh