Lunch at Mussolini's': Ethel Ross and Dylan Thomas
The Dylan Thomas Centre's temporary exhibition space is currently showing an exhibition of material about Ethel Ross and Dylan Thomas. Ethel knew Dylan and his Swansea friends well, through her work with the Little Theatre Company and also family association following her sister Mary's marriage to Alfred Janes.
'[Dylan] was a great storyteller. But then, you see, so was Wynford Vaughan-Thomas, and so was Daniel Jones, and so was Mervyn Levy, so that you had a kind of competition as to who was the best performer, and that was one of those things, of course, that made the conversation entertaining to watch.' Ethel Ross, quoted in Dylan Remembered.
Following Dylan's death in 1953, Ethel took a series of photographs of Dylan's Swansea, and captioned them with an appropriate quote from his work. A selection of these photos is on show, alongside other memorabilia, such as Ethel's publication, Dylan Thomas and the Amateur Theatre, which documents his time at the Little Theatre.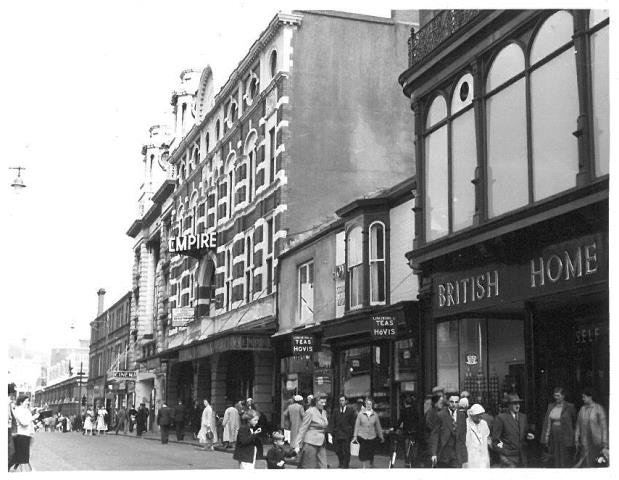 And excitingly, we display for the first time a four page script by Dylan. 'Lunch at Mussolini's' was written for the Swansea Grammar School magazine when Dylan was 15 or 16 years old. Then, as Ethel writes,
'This particular sketch he gave me to put on at the Little Theatre. In those days I used to write comic sketches for the party held after each show; but it was never produced, probably because I managed in the end to put together something more topical for the society. I still have the script, however.'
The script imagines Mussolini breakfasting with his family, and as Ethel puts it,
'The Great Man is revealed impotent against the niggling detail of family life. It has in retrospect an underlying truth and would still be quite good in a revue had not Fascism ceased to be a subject for humour.'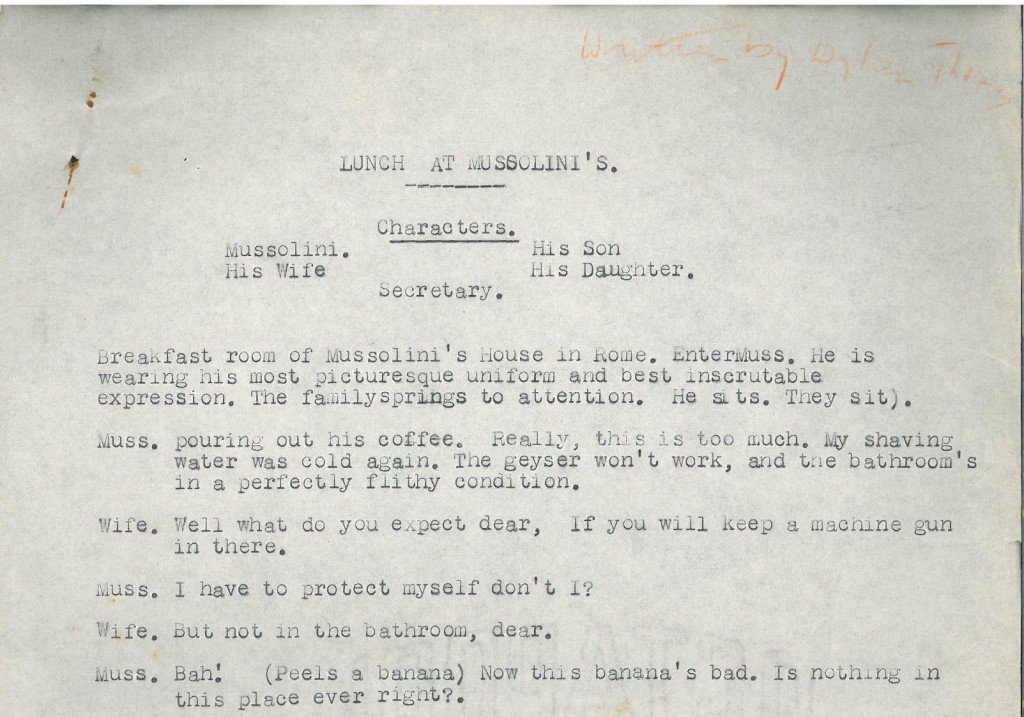 In addition to what the script reveals about Dylan's political consciousness, it's interesting to look at his writing technique, particularly in this exchange between the dictator and his wife:
Wife. (complacently) No dear. I hope you remembered to change your underclothing.

Muss. I did. And to air my shirt. And do my teeth. And wash behind my ears.
This listing device was successfully developed and expanded many years later in the dialogue between Mrs Ogmore-Pritchard and her two ghostly husbands in Under Milk Wood, as this short extract shows:
Mrs Ogmore-Pritchard: Tell me your tasks, in order.

Mr Ogmore: I must put my pyjamas in the drawer marked pyjamas

Mr Pritchard: I must take my cold bath, which is good for me.

Mr Ogmore: I must wear my flannel band to ward off sciatica

Mr Pritchard: I must dress behind the curtain and put on my apron.
The exhibition runs until 3 April, so call in to find out whether Mussolini ended up with vermicelli or macaroni for lunch!
This post is also available in: Welsh