Party Hats, Cake and Calligraphy at Dylan's Birthday Bash!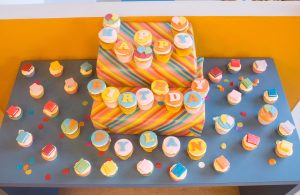 We had a ball celebrating the birth of our favourite Swansea-born poet, Dylan Thomas himself, at Dylan's Birthday Bash on Monday 30 October.
From 1pm – 4pm we made birthday badges, had our faces painted and also consumed a lot of birthday cake! But it wasn't all about the party and celebrations, as we also kept the work that made this poet so great, at the heart of our activities.
The face painting was themed around the animals that feature in Dylan's Trail, which runs throughout our 'Love the Words' exhibition. We even managed to end up with a whole skulk of foxes, who took great pride and care in building their own den in our miniature theatre area of the learning space.
I had a great time listening to people of all ages sharing with us their favourite lines of some of Dylan's most popular works. I even found a common interest with Lucas aged 9, who shares my love of 'A Winter's Tale.' We had a fascinating discussion around what we think hay would smell like in the snow, and also made some attempts to write our own calligraphy of the old.
Over the course of the afternoon, I gained a valuable insight into some of Dylan's deepest works – especially 'Poem in October,' which proved to be a firm crowd-favourite.
Half-term may now be nothing but a distant memory, but we still have plenty of activities going on in the run up to Christmas – including a snow globe-making workshop, as well as professional theatre performances from Fluellen Theatre Company.
For more information on any of our events, or group discounts, call us on 01792 463980 or visit us in person, and we'll be happy to help!
This post is also available in: Welsh