Under Milk Wood – A Chronology
Trace the evolution of Under Milk Wood in Dylan's writing through the years, starting from when he was just 17.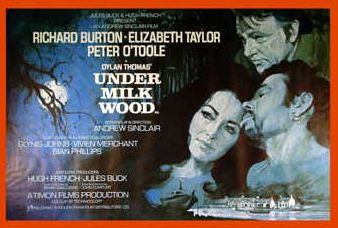 "To begin at the beginning: It is spring, moonless night in the small town, starless and bible-black…."
The opening of Under Milk Wood draws you into Thomas' story of a day in the life of the inhabitants of the small Welsh seaside village of Llareggub (read it backwards).
This "play for voices" is populated by some of the best-loved characters in literature, from blind Captain Cat to Polly Garter, Reverend Eli Jenkins to No Good Boyo.
Lyrically written, it's both riotously funny and deeply moving, and although firmly rooted in place, the universality of the characters shines through, which is why it's never been out of print, it's been translated into around thirty different languages and is regularly performed all over the world.
Richard Burton, Peter O'Toole, Elizabeth Taylor, Sir Anthony Hopkins, Tom Jones, Philip Madoc and Matthew Rhys have all starred in radio, stage or film adaptations.
As Dylan said to his New York cast before the first ever stage production: "love the words".
---
1931
Shortly before leaving Swansea Grammar School, the 17 year old Dylan writes a piece for the school magazine with stylistic similarities to Under Milk Wood:
MUSSOLINI
Is nothing in this place ever right?
WIFE (complacently)
No dear. I hope you remembered to change your underclothing.
MUSSOLINI
I did. And to air my shirt. And do my teeth. And wash behind my ears.
(Under Milk Wood, pxvi)
This is, of course, a similar exchange to that between Mrs Ogmore-Pritchard and her two ghostly husbands:
MR OGMORE
I must put my pyjamas in the drawer marked pyjamas
MR PRITCHARD
I must take my cold bath which is good for me
MR OGMORE
I must wear my flannel band to ward off sciatica
MR PRITCHARD
I must dress behind the curtain and put on my apron
(Under Milk Wood, 11)
1932
Dylan Thomas is living in Swansea. He discusses with his friend Bert Trick the idea of writing a play about a small Welsh seaside town.
1933
Thomas has a written outline of Under Milk Wood, which he reads to Bert and Nell Trick. In an interview with Colin Edwards, Bert Trick recalls:
"He read it to Nell and me in our bungalow at Caswell around the old Dover stove, with the paraffin lamps lit at night … the story was then called Llareggub, which was a mythical village in South Wales, [a] typical village, with terraced houses with one ty bach to about five cottages, and the various characters coming out and emptying the slops and exchanging greetings and so on; that was the germ of the idea which … developed into Under Milk Wood."
(Dylan Remembered Volume 1, page 165)
c1934
The name 'Llareggub' first used, in the early stories 'The Orchards', 'The Holy Six' and 'The Burning Baby'.
In 'The Orchards' the protagonist Marlais thinks "This was a story more terrible than the stories of the reverend madmen in the Black Book of Llareggub" (Collected Stories, 42). In this story, religion is linked with the mythic Wales of the White Book of Rhydderch and the Black Book of Carmarthen. In this way it is similar to role of Eli Jenkins' recording of the past in White Book of Llareggub. (These books have now become 'The Beige Book of Bollocks' in a recent play by Phil Bowen, Parlez vous jig jig, which will be performed at the Boat House on 31 August)
In 'The Holy Six' Llareggub is again associated with the religious: "All through the afternoon they had talked of nothing but the disappearance of the rector of Llareggub" (Collected Stories, 97)
In 'The Burning Baby' Rhys Rhys' son, described by his father as a "green stranger", looks at his sister and thinks: "She was to him as ugly as the sowfaced woman of Llareggub who had taught him the terror of the flesh. He remembered the advances of that unlovely woman. She blew out his candle as he stepped towards her on the night the great hail had fallen and he had hidden in her rotting house from the cruelty of the weather". (Collected Stories, 39)
1939
Thomas tells the writer Richard Hughes: "What Laugharne really needs is a play about well-known Laugharne characters – and get them all to play themselves" (Dylan Remembered Volume 2, 75)
1943
Thomas further outlines idea of a mad town plot to Richard Hughes and Constantine Fitzgibbon – the working title of 'The Town That Was Mad' lasts for some years
1944/45
Thomas divides his time between London and New Quay, west Wales. He writes the radio script, Quite Early One Morning, which is usually seen as a precursor to Under Milk Wood as its lyricism is much like that of First and Second Voice in Under Milk Wood. The similarities between them are apparent in the opening lines:
"Quite early one morning in the winter in Wales, by the sea that was lying down still and green as grass after a night of tar-black howling and rolling, I went out of the house, where I had come to say for a cold unseasonable holiday, to see if it was raining still, if the outhouse had been blown away, potatoes, shears, rat-killer, shrimp-nets and tins of rusty nails aloft on the wind, and if all the cliffs were left." (Collected Stories, 299)
The verse at the end is also comparable with Under Milk Wood, as can be seen in the following excerpt:
"I am Captain Tiny Evans, my ship was the Kidwelly
And Mrs Tiny Evans has been dead for many a year.
'Poor Captain Tiny all alone', the neighbours whisper,
But I like it all alone, and I hated her."
(Collected Stories, 302)
Quite Early One Morning also has a character called Mrs Ogmore Pritchard with her famous line "And before you let the sun in, mind he wipes his shoes".
(Collected Stories, 302)
1945
Publication of Quite Early One Morning
1946
Thomas broadcasts 'The Londoner', the story of 24 hours in the life of a post-war London family. The dialogue and competing voices are comparable to those employed in Under Milk Wood, and the script also has a narrator holding it all together. The Voice of an Expert performs a similar role to the Voice of the Guide Book in Under Milk Wood, and the dialogue between three shoppers waiting in the queue for rations is like that of the neighbours discussing Mr Waldo.
1947
'Return Journey' is written. This powerful and moving radio play charts Thomas' journey through his blitzed Swansea and is another example of him honing his technique before the completion of Under Milk Wood.
1949
Thomas reads extracts from what was to become Under Milk Wood at a party in Prague
1950
The first half of Under Milk Wood sent to the BBC under the title The Town That Was Mad
October 1951
Thomas writes at length about Under Milk Wood in a letter to Marguerite Caetani
"…the idea that I write a piece, a play, an impression for voices, an entertainment out of the town I live in, and to write it simply and warmly and comically, with lots of movement and varieties of moods, so that, at many levels, through sight and speech, description and dialogue, evocation and parody, you come to know the town as an inhabitant of it." (Collected Letters, 904)
April 1952
The first half of Under Milk Wood is published in Marguerite Caetani's Botteghe Oscure
May 1952
Thomas reads a part of the play at the Institute of Contemporary Arts, London. This was not recorded.
3 May 1953
Thomas gives a solo reading of some of Under Milk Wood at the Poet's Theatre, Cambridge, Massachusetts. This was not recorded.
14 May 1953
The first stage performance of Under Milk Wood, at the Poetry Center, NY. Liz Reitell recalled:
"The curtain was going to rise at 8.40. Well, at 8.10 Dylan was locked in the back room with me. And no end to Under Milk Wood. He kept saying "I can't, I simply can't do this." I said "You can, the curtain is going to go up." Strangely enough, he wrote the very end of Under Milk Wood then and there, and he wrote the lead-up to it. He would scribble it down, I would copy it, print it so that the secretary could read it, hand it to John Brinnin, and hand it to the secretary, do six copies. We all jumped in a cab finally, and got over to the theatre at half-past eight and handed out the six copies to the actors…" (Dylan Remembered Volume 2, 305)
28 May 1953
The second stage performance at the Kaufmann Auditorium, New York. Before this, Dylan's friend, the writer Ruthven Todd, recalled how Dylan continued to work on the play:
"Glowering at the world in general, and at the dismalness of my basement, he would take some sheets from Liz. Upon these she had marked his tentative suggestions. Growling, he would try out the new words and the revisions. While doing this he would alter, still dispiritedly, from one voice to another. Thus, according to the character, he might be Captain Cat speaking at one moment, or Rosie Probert, and then quite suddenly, it might be Mrs Organ Morgan or Mrs Ogmore-Pritchard, or, sadly, Polly Garter … Each emendation which he had made … had to be considered and weighed in his mouth. If it did not seem right, he would lean forward, his elbows on his knees, the cigarette drooping with the ash falling where it would. He would savour each phrase to the full, speaking slowly and seeming to taste the words. Then he would experiment with a succession of words until he found one which satisfied him, for the moment at least … If I said something was not clear or did not come over properly, he did not want me to make any suggestions for alteration. He, himself, would throw out different words of phrases, twisting them this way or that, until he found something that he wanted."
(Dylan Remembered Volume 2, 308)
5 October 1953
Thomas gives a solo performance of part of Under Milk Wood at the Tenby Arts Club
15 October
The completed script of Under Milk Wood delivered to the BBC's Douglas Cleverdon and copies made. The original was returned to Thomas, who lost it over the weekend and, before departing for America, told Cleverdon he could keep the original if he found it. A few days later Cleverdon tracked it down to a Soho pub.
24 & 25 October 1953
Under Milk Wood performed at the Poetry Center, New York
9 November
Dylan Thomas dies at St Vincent's Hospital, New York
Late 1953
Memorial performance of Under Milk Wood in New York
24 January 1954
Richard Burton and others perform extracts from Under Milk Wood at a gala for the Dylan Thomas Memorial Fund at the Globe Theatre, London
25 January 1954
First radio broadcast of Under Milk Wood in the UK. Burton is First Voice
1954
Under Milk Wood published in book form. 13,000 copies are sold in the first month, 53,000 in the first year, and by 1956-57 it had generated an income of £16,043.
1957
BBC Television Performance of Under Milk Wood
1961
Douglas Cleverdon sells his manuscript of Under Milk Wood to the Times Book Company for £2,000. It is said to have later changed hands for five times as much.
March 1966
Caitlin Thomas sues for the return of the original manuscript of Under Milk Wood, & loses
1968
Under Milk Wood translated into Welsh by T. James Jones as Dan Y Wenallt
1971
Andrew Sinclair's film of Under Milk Wood is made, starring Richard Burton, Elizabeth Taylor and Peter O'Toole, and filmed in Fishguard
1988
A musical version recorded by Sir George Martin, the Beatles' producer. With Anthony Hopkins, Tom Jones and many others
1998
First annual Dylan Thomas Festival held at the Dylan Thomas Centre, Swansea.
2003
New BBC recording retaining the voice of Burton but with a new cast.
2003
Hundreds of versions of Under Milk Wood are performed all over the world to commemorate the fiftieth anniversary of Dylan's death
2004
Fiftieth anniversary of the publication of Under Milk Wood, which has never been out of print.
2006
It is estimated that Under Milk Wood has been translated into at least 30 languages to date.
2008
Reissue of animated Under Milk Wood
2012
Swansea's first Under Milk Wood Day
---
References:
Dylan Thomas – Collected Letters edited by Paul Ferris (London: Dent, 2000 (new edition))
Dylan Thomas – Collected Stories (London: Phoenix, 2000)
Dylan Thomas – Under Milk Wood (London: Penguin Classics, 2000)
Dylan Remembered Volume 1 – the Colin Edwards Tapes edited by David N. Thomas (Bridgend: Seren, 2003)
Dylan Remembered Volume 2 – the Colin Edwards Tapes edited by David N. Thomas (Bridgend: Seren, 2004)
This post is also available in: Welsh