Creative Screenwriting for Computer and Videogames with Al Kang
Date/Time
09/09/2017 - 10/09/2017
2:00 pm - 4:30 pm
Location
Dylan Thomas Centre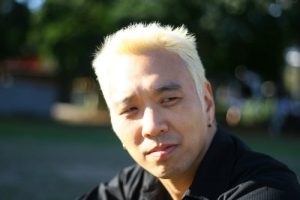 Session 1: Saturday 2pm – 4.30pm
Session 2: Sunday 2pm – 4.30pm
This hands-on workshop held over two afternoons will explore the trials and tribulations of crafting narrative experiences for computer games.
The workshop will identify the many pitfalls that will be encountered during the early stages of story construction, and reveal the best practices used in the industry to help create a Hollywood feature film feel to a videogame screenplay.
The workshop will explore classic storytelling methodologies, from fiction and prose writing to feature and television screenwriting and how they apply to the 20th century's newest form of entertainment fiction.
Session 1 will focus on The 360 Degree Screenplay and Session 2 on Creating the In-Game Narrative Experience
No previous experience necessary (not even gaming). Just an open mind to creating new worlds, new characters, and new dramatic moments in an open world where your audience leads the way. Please bring your own laptop or tablet.
Tickets
Age 14 and above.
Full Price £15
Concessions £10
Swansea PTL £5
Al Kang
Al Kang's career spans over 15 years of experience in the entertainment industry, working for such high profile companies as EA, Mattel, Alliance Atlantis and Cartoon Network.
Al began his career as a story artist on various high profile television properties such as Barbie, Dragon Booster and Ed, Edd and Eddy. In 2003, he was a recipient of the coveted Ben Wicks Award for Outstanding Canadian Children's Illustrator.
After an illustrious career at EA that spanned over four years, working on such projects as Need for Speed:Underground, Underground 2, and Need for Speed:Most Wanted, Al was recruited by EA's secret IP development team, where he wrote screenplays and produced story art for 3 new Next Gen projects … a gritty sci-fi epic, a Guy Ritchie-style action-adventure, and the newly created franchise EA Skate, which went on to become a huge success.
Al's most recent industry position was for LucasArts as a Lead Artist on Star Wars: The Force Unleashed.
Currently, Al is working as a Senior Lecturer at UWTSD on both their 3D Computer Animation and Games Design programmes. He is also in the process of negotiating his first feature-length live-action screenplay for production as a joint Welsh/Chinese venture.
In his spare time, Al works with local actors/musicians/producers on various short film projects in the hopes of sharing his knowledge with future generations of aspiring artists and writers in the entertainment industry.
This post is also available in: Welsh