Takeover Day
The Swansea Young Writers Squad took part in this month's Kids in Museums Takeover Day.
The young people installed items in the Ethel Ross and Dylan Thomas exhibition, and learned about conservation and curation, as well as having the chance to hold and read an original Dylan Thomas script. We talked about interpreting an exhibition, and writing concise and informative captions, and then wrote our own short pieces inspired by the morning's activities.
"Over our hands we wore gloves to stop the oil and grease going over the decayed body that lay motionless inside the coffin. A strong smell of dust melted out of cabinet as the glass roof got raised. We picked up the slippery insides of the coffin and as we organized them on stands and then organized the stands, we felt as if one false move would cause the world to shake and crumble. Our lives would be over."

Caitlin Llewellyn, age 11
Everyone chose their favourite quotes from the exhibition and then picked one to display in the front window of the Centre.
"We had to use all of the magnetic letters to make the quote 'he's not dead, he's thinking'. Re-arranging all the letters we came up with 'he's not dead, he's thinkin'. We couldn't find a lower case g. We got led in to a secret door and it made us go to the front window to get more g's."

Abby Coulson, age 11
One of the original members of the Squad, Jack Howard, was still at primary school when he first joined us. He's now 17, and still enjoys coming to the sessions. He was inspired by a script written by Dylan at a similar age:
"Paper. Not paper. These pages are my window through which I see Thomas' world. His adamant brow, furrowed, as if it were mine now. He touches his face as he sculpts the next word as I touch mine as I cherish his delicate craft. His hands held the paper and separated only by the decades I trace the words."

Jack Howard, age 17
What an inspiring morning! Our next blog post will feature more work from these talented young people.
To find out more about the Young Writers Squad drop us a line at dylanthomas.lit@swansea.gov.uk.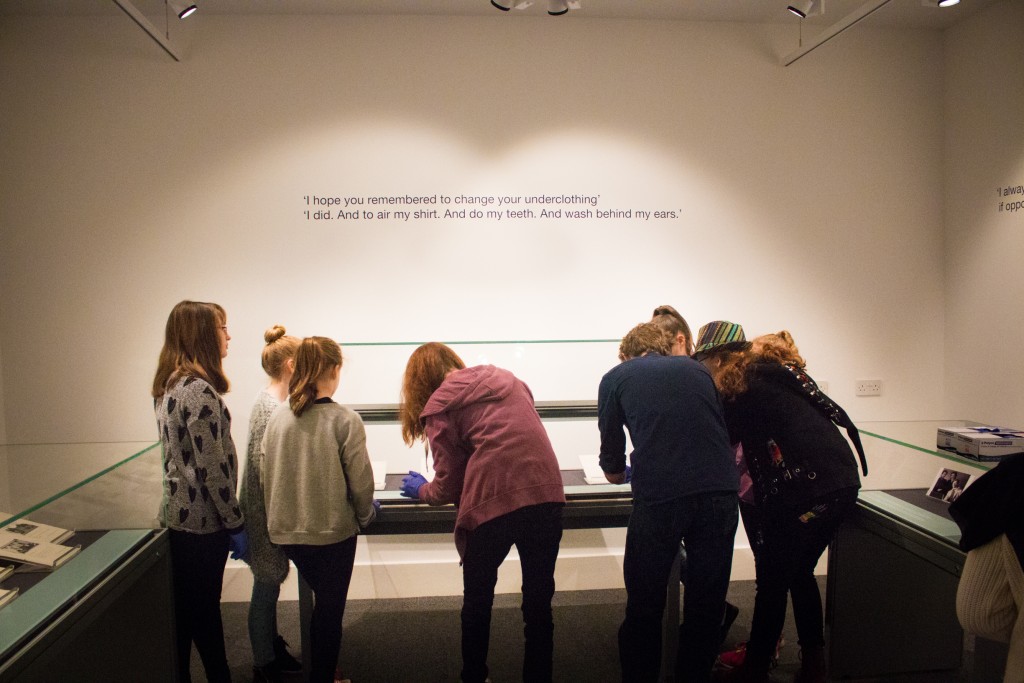 This post is also available in: Welsh