New Writing Workshops for Swansea's Asylum Seekers and Refugees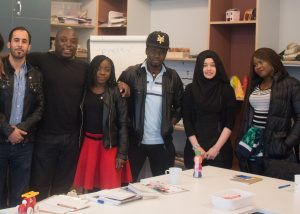 With thanks to funding from the Welsh Refugee Council, we are thrilled to announce that from Monday 4 June, we will be once again hosting the award-winning poet, dramatist and novelist Eric Ngalle Charles, at the Dylan Thomas Centre.
Originating from Cameroon, Eric's writing draws upon his traumatic experiences after leaving his mother country – where instead of the asylum he sought, he became a victim of human trafficking. The esteemed publisher, Parthian, is currently editing his memoirs which chronicle his long battle for asylum in the UK. Recently awarded a Creative Wales Award by Literature Wales, and with his latest play "The Last Ritual" to be performed at this year's Hay Festival, Eric Ngalle Charles is at the peak of his career.
Asylum seekers and refugees will be able to attend Eric's creative writing workshops at the Dylan Thomas Centre for FREE, and with fully reimbursed travel. Children are welcome to enjoy the puzzles and games in our Book Nook, provided they are under parental supervision. Refreshments will also be provided.
In these two-hour sessions, participants can work through their personal experiences in a creative and safe environment, with the warm guidance of a tutor that is not only experienced as a writer, but is sensitive to the issues that specifically affect those seeking sanctuary.
The 2-hour sessions will run from 10:30am – 12:30pm on the following dates:
Monday 4 June
Thursday 7 June
Tuesday 12 June
Thursday 14 June
Monday 18 June
In celebration of World Refugee Day, Eric will invite workshop participants to a live poetry performance at the National Waterfront Museum on 20 June, from 4pm – 8pm. This will be completely optional, but those that take up the invitation will have a truly special experience.
For more information on the projects supported by the Welsh Refugee Council, visit: www.wrc.wales
This post is also available in: Welsh