'A tune on an ice-cream cornet': Holiday Memory (1946)
While known for his poetry, I was excited to find out that Dylan also wrote for radio and film. As I wandered through the exhibition, I discovered a page from one of his broadcasts and got hooked! One of my favourites is 'Holiday Memory', broadcast on the BBC's the Third Programme on 25th October 1946.
'Holiday Memory' relates the festivities and delights of a sunny August Bank Holiday in Swansea. Dylan launches his broadcast with a joyous 'fanfare of sunshades opening', in which you can hear a 'tune on an ice-cream cornet', and watch a 'sunburn of girls and a lark of boys.'
What I loved was the universality of the British seaside experience, with which I could identify: from Punch and Judy shows and beachcombing, to melting ice creams, sand (in everything) and beach games – including 'the princely pastime of pouring sand from cupped hands or buckets, down collars and tops of dresses; the shriek, the shake, the slap'. An easy familiarity permeates these nostalgia-infused memories.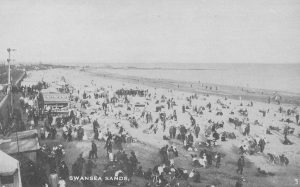 It's not all innocent! The narrator affectionately mocks traditional social niceties that are maintained, even on a 'day off'. Indeed, mothers 'in black, like wobbling mountains, gasp[ed] under the discarded dresses of daughters'. Our poetic sharpshooter also targets the 'pale young men with larded hair and Valentino-black side-whiskers' playing fairground games, and fathers 'in the once-a-year-sun, [taking] fifty winks': unlike the children, and our nostalgic poet, the adults are somewhat oblivious to the momentous occurrence of the glorious sunshine.
However, Dylan hints at a sense of time slipping away, wistfully informing us: 'I remember most the children, boys and girls tumbling, moving jewels, who might never be happy again. And "happy as a sandboy" is true as the heat of the sun.' As if almost to stay the days' passing, he offers a benediction, wishing an 'August Bank Holiday all over the earth, from Mumbles where the aunties grew like ladies on a seaside tree to brown, bear-hugging Henty-land and the turtled Ballantyne Islands' before finally transporting us through to dusk and the long, tired but satisfying trudge home.
Alexia Bowler, Dylan Thomas Centre
This post is also available in: Welsh