A Child's Christmas in Wales
The Dylan Thomas Centre's Charlotte Rogers considers the universal appeal of Dylan's magical story.
'It was snowing. It was always snowing at Christmas. December, in my memory, was as white as Lapland, though there were no reindeers.'
I'm finding it hard to remember the last time that Swansea felt snow in December, but no matter. The easiest way to get into the Hollywood-style imagery of a white Christmas, is to open up the pages of Dylan's dreamlike short story, A Child's Christmas in Wales, and start reading aloud:
'I can never remember whether it snowed for six days and six night when I was twelve or whether it snowed for twelve days and twelve nights when I was six.'
Written originally as a piece for BBC Radio, and recorded in 1952 for the now-famous label, Caedmon Records, what is most surprising about this piece is its global appeal. Swansea readers and listeners will recognise the 'rim of the carol-singing sea' that is Swansea bay, and know that the 'lights in the windows of all the other houses on our hill' can be found on Cwmdonkin Drive; but what does an international audience make of the 'moccasined trappers from Hudson Bay, off Mumbles Road'? Or the childish pastime of chasing away 'the English and the bears?'
When we asked our visitors at the Centre about their own memories of A Child's Christmas in Wales, we were most struck by the number of Americans and Canadians that had clear memories of Dylan's recording from 1952. This classic recording of Dylan's sonorous voice is still played on radio stations across the world, bringing it into the living rooms of families everywhere. And when it wasn't broadcast, it was played on the record player, as Dylan Thomas fan Shawn Mooney recollects:
'We often spent Christmases with my Aunty Mar in California, and would travel down from Canada for the season. I have a clear memory of her putting the record of Dylan Thomas reading A Child's Christmas in Wales on the record player on Christmas Eve. This didn't happen once, it was part of her tradition, and we would sit around and listen. I still remember the resonance of his voice, and even a few of the phrases.'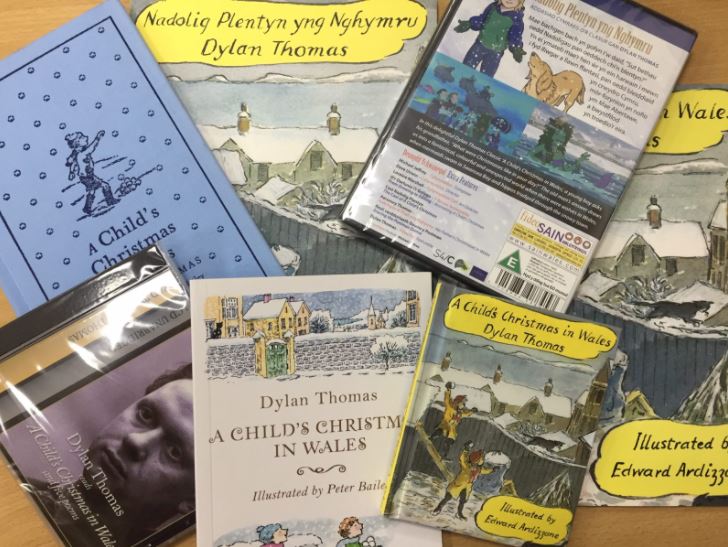 Shawn's story is not an unusual one when it comes to our international visitors: 'Our family has been reading A Child's Christmas in Wales since 1969' a lady from Kentucky writes in our visitors' book. 'I've always loved A Child's Christmas' writes another visitor from Toronto. It might come a surprise to think of families in other countries listening to the story of a young boy from the Uplands throwing snowballs at cats, but this is all part of Dylan's gift: he makes the particular, universal.
The beauty of this piece, and the reason its magical prose continues to resonate on the airwaves, on stage, and on the mouths of parents across the globe, is that it appeals to everyone's inner-child. Dylan's Christmas is laden with snow, and presents, and cheeky pranks. He and his friends stalk the white streets of Swansea looking for adventure away from all the adults in their lives.
'The silent one-clouded heavens drifted on to the sea. Now we were snow-blind travellers lost on the north hills, and vast dewlapped dogs, with flasks round their necks, ambled and shambled up to us…'
In this snowy vision of Swansea's Uplands on Christmas day, he provides adults and children across the world with an imaginative escape into the perfect holiday. I don't know about you, but I know what I'll be reading aloud to my family on Christmas Eve…
This post is also available in: Welsh